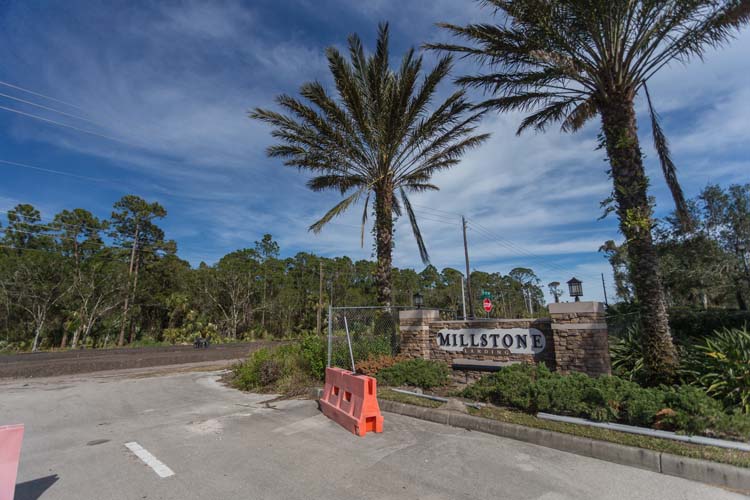 Following up on a Jan. 9 vote to withhold certificates of occupancy and building permits at Millstone Landing, after subdivision developer Starwood Land Ventures missed a deadline to complete the 17th Street, SW and 27th Avenue intersection, county commissioners kept the pressure on Starwood at a Jan. 30 special call meeting.
The developer, which bought the partially completed subdivision out of bankruptcy in May 2016, entered into an agreement with the county to upgrade the intersection to handle increased traffic created by Millstone Landing. Currently there are 356 occupied homes in the subdivision using one exit-entrance on 21st Street, SW, with no light.
About 200 homes have been built since the Starwood acquired the property in May 2016 and another 257 are planned, for a total of 613 single-family houses.
At the Jan. 9 meeting, Starwood claimed the intersection was not complete because Florida Power & Light had not removed powerline poles that are obstructing progress, but commissioners did not buy that reasoning. They gave Starwood three weeks to show "significant progress" before resuming certificates of occupancy and building permit issuances.
At the Jan. 30 meeting, the board decided Starwood had not done sufficient work in the interim to be released from restrictions. It agreed to issue eight certificates of occupancy for homes that had passed final inspection but will continue to withhold certificates of occupancy for 39 homes now under construction. Another 33 homes are in the permitting process, but no more building permits will be issued either until the intersection is complete.
"That includes sidewalks, lights and striping," Chairman Peter O'Bryan said. Millstone Landing is in his district and he meets with residents once a month.
Three homeowners who spoke at the Jan. 9 meeting urged the county to continue pressuring the developer until the intersection is finished. One asked why the county didn't make Starwood put up a completion bond, a requirement that would impact the developer, not homebuilders and homebuyers.
While Starwood is the subdivision developer, homes are being built by Lennar, GHO Homes and D.R. Horton. Those companies stand to suffer because of the restrictions, even though they are not responsible for the intersection improvements.
County Administrator Jason Brown said the county has been criticized in the past for not working with developers and gave the developer a break on the bond for that reason. "Now the county is sharing blame for this not getting done."
Starwood's attorney, Bruce Barkett of Collins Brown Barkett Garavaglia & Lawn, said Starwood would prefer to put up a bond instead of having permits and certificates of occupancy withheld. He also asked for a list of requirements for establishing "significant progress" at the intersection, instead of being judged by the need "to put a smile on Mr. Szpyrka's face," referring to the county public works director.
The county wants the intersection completed within 60 days, but Barkett said that date is "setting us up for failure." He said the deadline should be 65 days after FP&L removes the poles, but the commission stood firm on the date.
"We are set to have a lot of development in the future," Commissioner Susan Adams said, agreeing with O'Bryan that it would set bad precedent to waffle on enforcing the developer's agreement.
"If the shoe were on the other foot, I guarantee we would be held accountable," Adams said. "I think this is a self-created crisis."