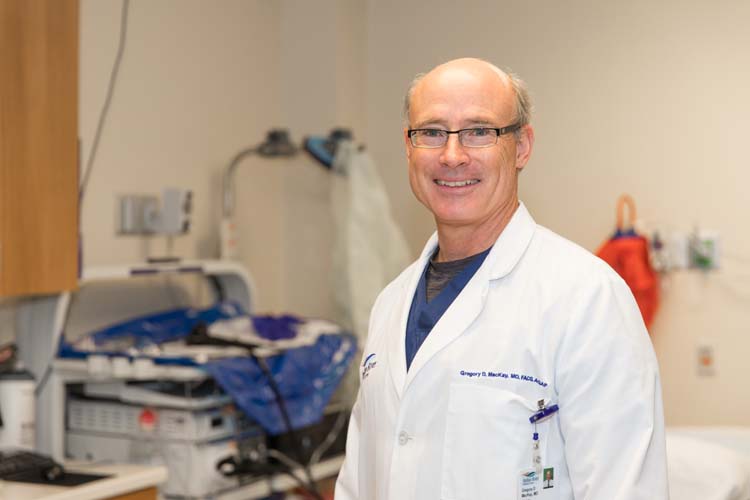 After roughly seven months of construction, IRMC's new $6.1 million Scully Endoscopy Center opened for business last week, with an open house held for those who wanted to see all that it has to offer.
The center is 50 percent larger than the hospital's old endoscopy center and has lots of bright new equipment, according to gastroenterologist Dr. Gregory MacKay, who is on the center's staff.
Endoscopy, in a nutshell, is the use of miniaturized cameras inside flexible tubing. It allows physicians to view, in real time, areas inside the body that may be infected, damaged or cancerous without cutting a patient open.
MacKay is excited about the center's covered drive-up entrance and spacious lobby, but he is even more enthused that two new doctors will soon join him and Drs. Ashley Canipe, Charles Eberhart, Bruce Grossman and Joseph Zerega on the center's staff.
Dr. Yakov Gitin "trained in Boston at a Harvard affiliate and is an outstanding guy," according to MacKay.
MacKay is comparably effusive about the second newcomer, Dr. Jim Gordon, calling him "an excellent gastroenterologist who did his training at the University of Florida," adding, "we're thrilled they are joining us full-time now."
Financed in part by generous gifts from Bill and Marlynn Scully, Dr. Wayne Hockmeyer, Mr. and Mrs. Gordon L. Stewart, Keena and Chris Clifford, John and Susan Dobbs and a virtual "Who's Who" of some 100 other Vero Beach donors, the new 10,000-square-foot center boasts over $1.6 million worth of what MacKay says is equipment that even the nation's top teaching hospitals would envy.
Included in that equipment, according to MacKay, are "scopes that will now go up into the bile duct so we can do biopsies up in there and actually see what bits of tissue were biopsied," as well as "a specialized scope with basically an electric spark-generator that will allow us to shatter [bile duct] stones and pull the fragments out" rather than having the patient undergo a major surgery to remove those stones.
Since the National Institute of Diabetes and Digestive and Kidney Diseases reports that well over 70 million Americans are currently affected by gastroenterological issues, it's no surprise that the number of endoscopy cases at IRMC has ballooned over the past five years.
Aside from endoscopy's well-documented success in finding and removing colon polyps and cancers, it also allows physicians like MacKay to look for gastric, rectal, pancreatic, esophageal, liver and other cancers while also tackling a staggering array of other issues including acid reflux, GERD, dyspepsia, irritable bowel syndrome, hemorrhoids, anal fistulas, peptic ulcers, abdominal pain syndrome, biliary tract disorders, gallbladder issues and pancreatitis.
Indeed, the U.S. National Library of Medicine calls endoscopy simply "the keystone of modern gastroenterology."
MacKay wholeheartedly agrees with that assessment and says the new center and new equipment will allow the hospital to better meet "the needs of the community."
"We did about 3,800 procedures here last year," he says, "and now we've increased our capacity by 50 percent. That will help us really take care of not only the acute, urgently ill people who need urgent procedures but also the people that need less urgent, more preventative care like those screening colonoscopies."
Equipment and physicians aside, however, MacKay concludes with a tribute to the rest of new center's staff by saying: "We also have a great team of nurses and technicians assisting us and a volunteer staff that is thrilled for the opportunity to be able to take care of our community."
The new Scully Endoscopy Center is located on the south side of Indian River Medical Center's main building. Dr. MacKay's office in Vero Beach is at 3450 11th Court, Suite 206. The phone number is 772-299-3511.