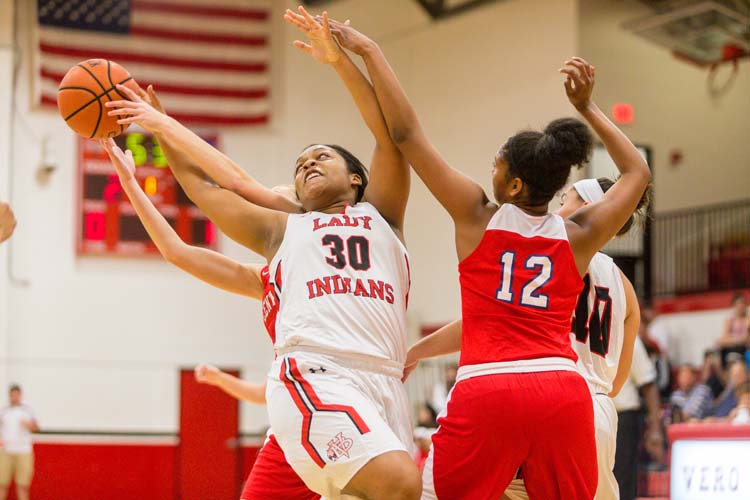 When asked to assess performances of his team during a season, a prominent coach once said 'you are what your record says you are.' That pretty much sums it up for the 2017-18 varsity girls basketball team at Vero Beach High.
After dropping a 55-31 decision to Fort Pierce Central last week, VBHS completed the District 8-9A portion of its schedule with a record of 4-4. The Fighting Indians started the season by winning four straight and six of seven, but after the Central defeat the overall record dipped to 9-7.
With the district tournament just around the corner next week, head coach Rahshard Morgan and one of his veteran players elaborated on the state of the current team, and a program two years removed from the glory of a state championship.
"Going into the season we knew we had a lot of big shoes to fill in a lot of different positions," Morgan said. "We considered this kind of a rebuilding year for us. Of our five starters only one had really legitimate playing time as a starter last year. We anticipated that the season was going to be a little up-and-down.
"We are led by two experienced seniors in Kirstin Foncham and Juliana Marrero. There are seven new varsity players. We have two very good freshmen in Chayse McGirt and Damia Woolcock. They came in and gave us a different type of leadership from a freshman perspective.
"It's actually going pretty well this year. It is as we expected."
The team had a golden opportunity to build some momentum before the district tournament with four games left on a regular season schedule that came to a conclusion this past Wednesday. They had previously defeated three of those opponents.
The typical starting five includes Foncham, Marrero, McGirt, junior Prager Wintermyer and senior Mollie Keeler. Woolcock and senior Aliyah Bell are the first two off the bench as Morgan likes to go nine deep at times.
The obvious formula for success is to get into a defensive scrum, keep the score under 50 for both sides, reduce turnovers that seem numerous at times, outhustle the other team all over the floor, and grab the majority of those 50-50 loose balls and rebounds. The coach did not disagree while acknowledging that "we shot ourselves in the foot" and his team was "ice-cold" from the field in a 44-32 mid-January loss to district favorite Centennial.
"We need to work on just becoming a better team in general," Morgan told us. "If we can manage to just do the simple things – I know that sounds like coach talk, but we are speaking the truth here with this group – we will be a much better team. We have to be a more cohesive unit that communicates well and plays together. If we do that we will be able to put a much better product out there.
"I've been the head coach here since 2004. We've had some success in recent years. We appreciated winning the state championship, but it was a grind. There were positives and negatives to winning that state championship, believe me.
"The positives are you have momentum and people are enthusiastic. The negative is complacency where everyone expects it to happen just because they are on the team. A lot of people don't see the work that is required – the hours and the sweat those girls put in to be successful before that 2016 season even started. It probably started three years prior.
"But Vero Beach High girls basketball is here to stay and we will be back next year strong, really strong."
Foncham was a starter on that 2016 championship team. She echoed her coach on a variety of points, sometimes verbatim.
"My basketball career here has been exciting, but it has also had its ups and downs," Foncham said. "I see this team growing every day, but we still need to work on the little things. If we do that we will be much better.
"Because we are so young the focus and maturity are not there. I also feel that if we had more urgency we would be a great team. I see myself as a leader because I was in the stages that the younger players are in right now. I had some of the older girls like Meg Gorman and Kourtney Harris from the championship team encourage me every day in practice and games. Now I have to do that for some of the freshman and sophomores who are getting playing time.
"I've had a great time here and I just can't wait for each and every day."