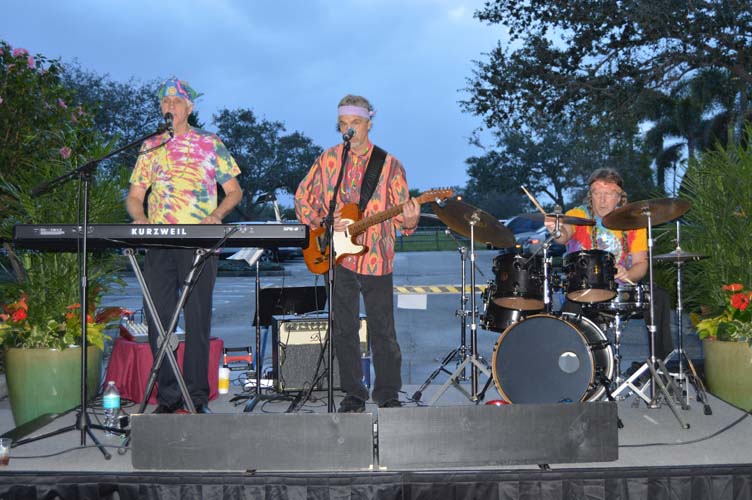 More than 330 party-goers "tripped the light fantastic" Jan. 26 at the Vero Beach Museum of Art's 2018 Gala, Rock of Ages. The nostalgic, musical journey was inspired by one of the museum's newest exhibits, Medieval to Metal: The Art and Evolution of the Guitar, a touring exhibition of 40 instruments celebrating the artistic development of the guitar through the ages.
Presenting guests with a blast from the past, the event featured several bands – Cactus Jack & the Cadillacs, the Paradise Band, DJ Willie and the British Invasion – performing music from bygone days; tugging at musically inspired memories from the '50s through the '80s. Guests had dusted off their dancing shoes and came adorned in everything from psychedelic T-shirts and poodle skirts to heavy-metal garb. Many also did their best to "bust a move" amid the disco balls, 45s and neon lights.
Co-chairs Kathy Kemp, Ellen Ferro and Geri Altieri fully embraced the theme, turning spaces around the museum into replicas of dance clubs in the '50s, Motown and Studio 54. And later in the evening, guests toured the 1960s era of rock and pop music from across the pond.
"It's the best party ever!" exclaimed Ferro, watching as guests roamed from one musical genre to the next while partaking of a moveable feast catered by Elizabeth Kennedy & Co. "The exhibit was the starting off point for the gala and for the first time you can actually go into the featured exhibit during the event."
"The guitar exhibition is fabulous. It's fascinating on a historic level, on a design level and a popular cultural level. It touches on a lot of bases, but for anyone who likes music, there are points of nostalgia," said Brady Roberts, VBMA executive director/CEO. "The gala is a huge event for us. It supports the operations of the museum and allows us to do all the great things we do for the community. We just completed our strategic plan so it gives us a roadmap for the coming years. There are a lot of great things coming around that we'll be talking about in the months ahead. We've got a lot of great exhibitions and programs on deck, so it's going to be exciting times at the museum."
"We're excited about the event tonight, and we're certainly focused on making the museum open to everybody," added Sandra Rolf, VBMA board chair, referencing the opening of the new Art Zone for children.
Photos by: Stephanie LaBaff
Click HERE to see more or buy photos