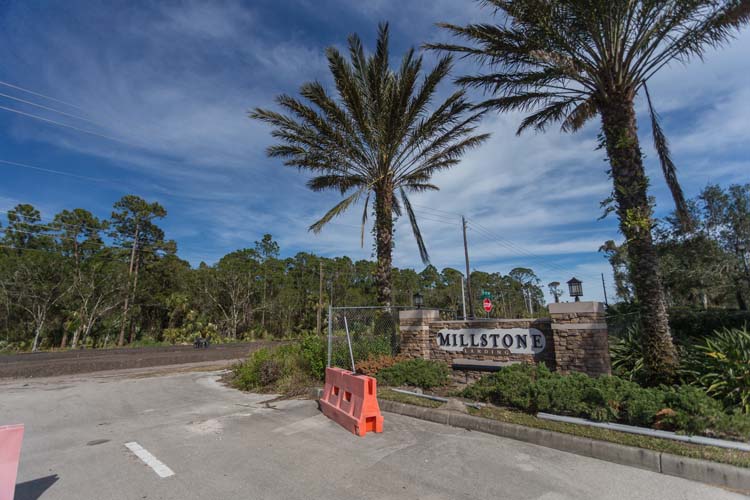 Indian River County has taken the extraordinary measure of withholding certificates of occupancy that would allow homeowners to move into their new homes, along with building permits for new housing starts, as a way to pressure Starwood Land Ventures, developer of the 300-acre Millstone Landing subdivision, after the developer missed an end-of-the-year deadline for finishing the 17th Street Southwest and 27th Avenue intersection.
At a recent county commission meeting where the decision to withhold was made, Steve Moler, of Masteller & Moler, Inc., Starwood's engineer, pointed out Florida Power & Light poles have not been moved out of the right-of-way, making it impossible to meet the deadline.
He said coordinating with FP&L was thrown off course by recent hurricanes that made the Millstone road project a low priority for the energy giant, and completing the intersection was further delayed by heavy rains during fall and early winter.
Public Works Director Richard Szpyrka agreed that FP&L was "half the problem," and said an extension would have been considered if Starwood had demonstrated "a good faith effort" on getting done what they could.
The developer was "slow in getting permits," with plans being sent back with corrections, Szpyrka said, and when FP&L did show up to do a directional bore, it couldn't, because Starwood had failed to de-water the site. There were turn lanes and roadway widening construction that could have been completed, he added.
"So, at this time, I can't say Starwood has made a good faith effort. The developer could have completed all the improvements up to the point that the FP&L work was the only item stopping progress, but has not taken this course of action."
Commissioner Tim Zorc asked the board to consider issuing the certificates of occupancy to allow about 15 homeowners to move in over the next five weeks. "The homeowners are paying the price, an innocent third party," not the developer, he argued.
Commission Chairman Peter O'Bryan disagreed. He said Millstone Landing residents are in his district and "hundreds" of current homeowners are tired of the road delays.
"I met with Starwood Project Manager John Brian in October," O'Bryan said. "He said the intersection would be done in six weeks. … There has not been a sudden change in the developer's agreement approved in [October 2016], defining 'substantial completion.' If we grant a do-over on this developer's agreement, how do we enforce other developer's agreements?"
O'Bryan suggested the board call a special meeting Jan. 30 to reconsider issuing certificates of occupancies and building permits, but only if Szpyrka reports that significant progress was made in the intervening three weeks. The commissioners passed that motion unanimously.
"It's unfortunate that the county has taken this position," Starwood Project Manager John Brian said. "Our concern is for those families that have purchased homes that simply want to be allowed to move in. Our plan remains to complete all of the required work as soon as possible."
Starwood is the developer of the subdivision, responsible for infrastructure, but Lennar, GHO Homes and D.R. Horton are the homebuilders at Millstone Landing.
Asked if the builders might bring action, Brian said, "I would hope not, but the possibility is there if the project isn't allowed to move forward."
Szpyrka said this is the first time in his two-year tenure the county has withheld certificates of occupancy and building permits to enforce a developer's agreement. "It should be noted that some existing residents have been waiting for this roadway connection to the Millstone Landing subdivision for years," he said.
Millstone Landing currently has 356 occupied homes, with another 72 houses either under construction or in the permitting process, Szpyrka said. When Millstone Landing is completely built out there will be a total of 613 homes.
Starwood Land Ventures purchased 458 residential lots from Regions Bank for $7 million, May 2016. The bank foreclosed on the original developer, Shelby Homes, which purchased the lots for $21 million. Starwood took over Shelby's 2005 developer's agreement with the county September 2016, which was amended October 2016. The amendment included the 27th Avenue and 17th Street Southwest intersection deadline of Dec. 31, 2017.