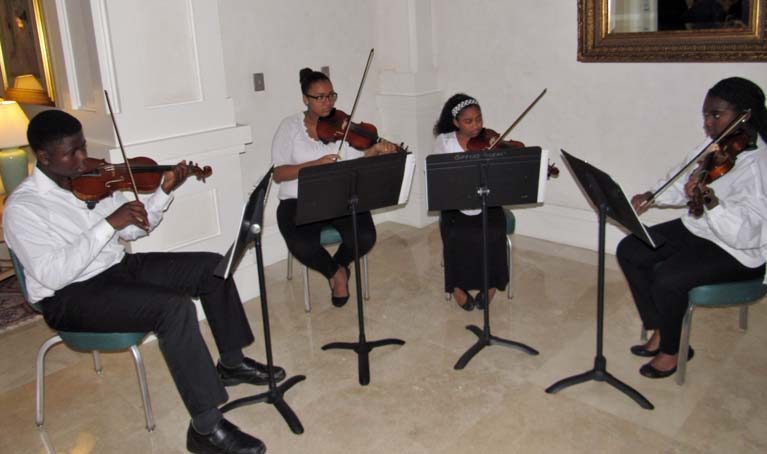 The Gifford Youth Achievement Center celebrated two decades of "giving youth a chance" at a lovely 20th Anniversary Gala Celebration last Saturday evening at the Oak Harbor Club. The vision of Chairman Emeritus Dr. A. Ronald Hudson, the late Dan K. Richardson and the late Dr. William Nigh, GYAC has been buoyed by Executive Director Angelia Perry's skillful management and her efficiently enthusiastic staff and board.
GYAC now enjoys more than 50 community-wide partnerships which, in conjunction with highly qualified teachers and mentors, provide roughly 140 students from 22 area schools with a host of far-ranging after-school programs. Another 200-plus children attend the GYAC summer camps. A multi-functional community center, GYAC also offers a host of programs for local seniors, from exercise and computer classes to caregiver respite.
A brief historical video noted that by 1996, the graduation rate for African-American students had plummeted from 92 percent in 1969, when Gifford High School was a segregated school, to a disturbing 23 percent. Richardson, a philanthropist and citrus industry leader, and Nigh, pastor at Community Church of Vero Beach, reached out to Hudson, an educator and Gifford community leader, and by February 1998, with the support of the community, GYAC opened its doors.
"It is just amazing how everybody came together and worked together," said Hudson in the video. "My satisfaction is that it has broken down some of the racial barriers in this county, and I continue to see that as one of the side benefits to all of the other fine things that this facility has done and still is doing.  If we don't get a chance to learn what's going on in a community or where we live, we will never get to know each other. I think that by the fact that this building is here and has provided an opportunity for that to happen; I think we have a better community, we have a better county."
"Our success dictates a need for another extension; we need additional space," said Richardson's son-in-law Carter Hopkins, GYAC Foundation Chairman Emeritus. "We have a waiting list every year now of 40 or 50 children."
"GYAC is looking forward to its future growth to be able to serve more students and build on the achievements of our teachers, staff and board," said Perry. "We've already made such incredible strides, with more than 74 percent high school graduation rates among African-American students. GYAC gives our children a hope to live a better-quality life to become responsible citizens in our community. They are learning the study and work habits they will use for the rest of their lives to become successful."
Freddie Woolfork, Public Relations & Facility Operations director and a 20-year veteran of GYAC, stressed that their goal has always been "nurturing youth to be the best that they can be in life."
Guests also heard from Vonisha Kaigler, a dual-enrolled National Honor Society student in the top 10 percent of her class, who has been selected to represent Vero Beach High School and the state of Florida at the prestigious Congress of Future Medical Leaders in Boston.
Kaigler, who hopes to become a pediatric surgeon, said that in addition to academic opportunities, "not only did they open doors to me, but they gave me the tools to open doors myself. I know that with all your donations and your help, you can help many more kids like me."
For more information, visit gyac.net.    
Photos by: Mary Schenkel
Click HERE to see more or buy photos