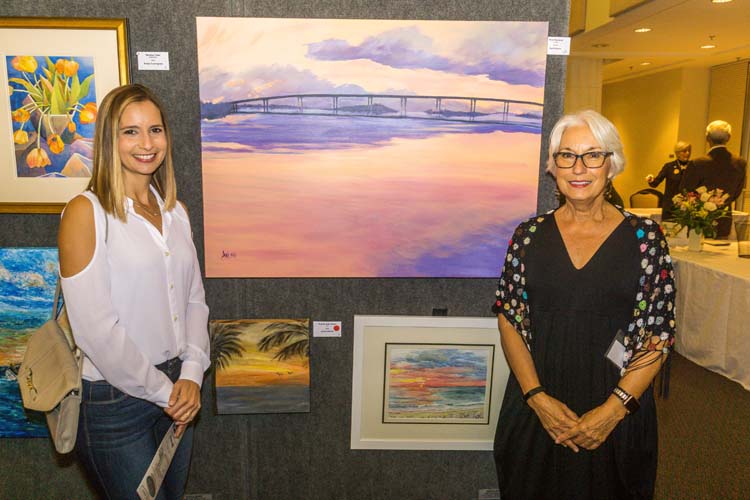 Art-lovers were afloat in a sea of talent during the 30th annual Art by the Sea exhibition and sale presented by the Vero Beach Art Club at the Vero Beach Museum of Art. The judged show, featuring nearly 225 pieces by members of the VBAC or the museum, opened to a packed house at the Jan. 19 cocktail reception and awards ceremony.
"For 30 years we have been doing this and I swear that each year the art seems to get better and better," said Anne Malsbary, VBAC president, before introducing co-chairs Judy Rixom and Sherry Haaland, who announced the show's winners.
Participants could enter one piece of artwork, completed within the last two years and not exhibited at a previous Art by the Sea show. Independent judge Nancy Dillen selected the winners in the categories of oil, watercolor, acrylic, mixed media, pastel/graphics, sculpture/3-D, film/digital photography and jewelry.
George Beckman was presented with the Mary Mazur Memorial Best of Show Award for his kinetic sculpture, "Dancing Spirit," which was enhanced by its graceful motion.
A new President's Choice Award introduced this year went to sculpture artist George Paxton for his bronze sculpture, "Pensive."
On Friday, many guests took advantage of a first opportunity to purchase the various works. A portion of the proceeds from each sale supports the Vero Beach Art Club and its educational outreach programs, including scholarships for high school seniors and donations of art supplies to local elementary and middle schools and various art classes.
The show continued through the weekend with viewers casting a vote for their favorite pieces to determine the People's Choice Award winner, who was announced late Sunday.
The Vero Beach Art Club will host Art on the Island, its annual three-dimensional art show, Feb. 9-11 at the Marsh Island Clubhouse, beginning with a cocktail reception on Friday evening.
Photos by: Gordon Radford
Click HERE to see more or buy photos