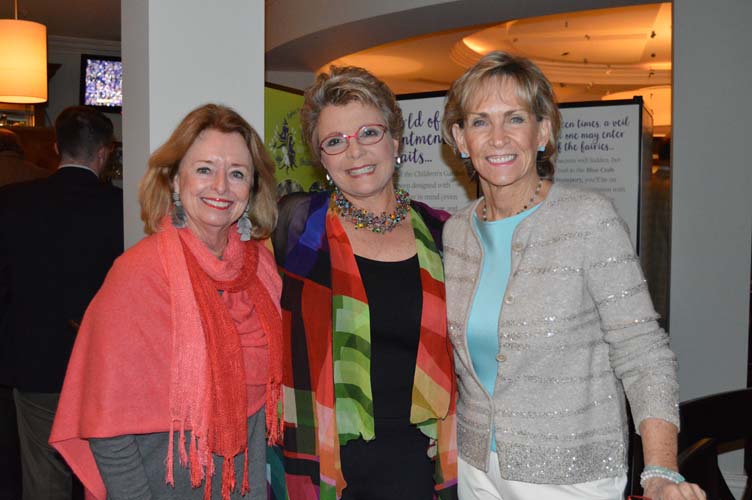 McKee Botanical Garden benefactors dined at an inaugural Seed to Sea: Secret Supper last Sunday evening to benefit the planned Children's Garden at McKee. Adding to the allure of the adventurous culinary experience, the location and chef had remained a mystery until Saturday afternoon, when guests received a missive disclosing that Chef Scott Varricchio would create the six-course dinner with wine pairings at his Citrus Grillhouse.
After enjoying conversation and cocktails, diners settled in at tables decorated with Children's Garden vignettes, including a "treed" pirate ship, faeries and swing. The focus of the evening was to sow seeds of growth in the project by engaging donor support.
"Tonight is the culmination of about five years' worth of strategy and work, and we really appreciate you being here to kick off the next phase," said board president Matt McManus, sharing that they have already raised $4.8 million toward their $7.5 million goal. "This is part of a much larger international movement to reconnect children with nature. As we began to learn more about this, my wife and I were shocked to learn that only 50 percent of preschoolers spend time outside each day and the average 8- to 18-year-old is on a digital screen device for about 7.5 hours each day."
To nurture that powerful child/nature bond, the Children's Garden is being designed to create a fun and whimsical outdoor destination that will encourage imagination and curiosity in children through interaction, education and exploration.
"The loss of free play, particularly outdoors, is an epidemic and we think the Children's Garden at McKee will help to solve that issue," said McManus.
From one course to the next, attendees savored each unique dish. The menu featured colossal crab wraps paired with Schofferhofer Grapefruit Bier; salads of compressed yogurt, grains and fruits were paired with a Chateau Montelena Porter Valley Riesling; and aged goat cheese raviolo in roasted tomato-bacon broth were paired with the Chateau Montelena Chardonnay. Both the Bay of Fundy diver scallops and the Miyazaki beef with Miatake mushrooms were accompanied by the Chateau Montelena Cabernet, and dinner concluded with a selection of sweets.
"I wouldn't have ordered several of the items served tonight, but now that I've tried them I really liked them," whispered one guest to his dinner companion, after having made quick work of the unusual salad with its vanilla-fig balsamic drizzle.
"As I look back on the night, everyone in that room has been to many, many charitable dinners. I wanted tonight's dinner to be what was remembered," shared Varricchio.
The icing on the cake was the auction of a wine dinner for eight, prepared personally by Varricchio, which sold for $6,000.
"The event exceeded our expectations and the responses we have received from our guests have been overwhelmingly positive," said Christine Hobart, McKee executive director. "I have to extend particular thanks to Chef Scott Varricchio and his team, who outdid themselves. I have no doubt that we will make progress toward our campaign goal as a result of the enthusiasm of the evening."
For more information, visit mckeegarden.org.      
Photos by: Stephanie LaBaff
Click HERE to see more or buy photos