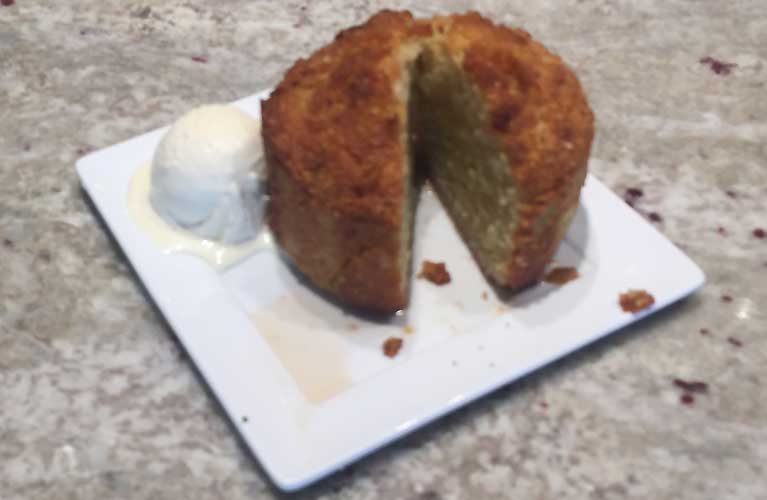 (Serves 4)
SYRUP
½ cup sugar
½ cup water
1 cup spiced rum, preferably Myers
CAKES
1 cup cashew flour
1 tablespoon all-purpose flour
¼ cup fine semolina
½ teaspoon baking powder
¼ cup butter, room temperature
1 egg
Seeds of 1 vanilla bean
¼ cup sugar
Zest of 1 lime
PREPARE THE SYRUP in a small saucepan over medium heat, dissolve the sugar in the water.  Cool and then stir in the rum.
MAKE THE CAKES  Preheat the oven to 350 degrees.  Grease 4 (6-ounce) ramekins with butter and place parchment paper lifts in them.
In a medium bowl, whisk together the flours, semolina and baking powder.  Make a well in the mixture.  In another medium bowl, whisk the butter, egg, vanilla, sugar and lime zest until fluffy.  With a wooden spoon, add the wet mixture to the dry well and blend into a thick batter.
Divide the batter between the prepared ramekins and bake until a toothpick inserted into the middle of the cakes comes out clean, about 8 to 12 minutes.  Remove the cakes from the oven and cool for about 5 minutes.
TO SERVE  Divide the syrup into 4 small bowls that are slightly larger than the cakes.  Using the lifts, transfer the warm cakes from the ramekins to the bowls.  Allow the cakes to soak up the syrup for 15 to 30 minutes.
Using the lifts, transfer the cakes from the bowls to small plates.  Discard the lifts.  Serve with Spiced Pineapple Gelato (see below recipe).
---
SPICED PINEAPPLE GELATO  (makes 1 quart)
2 (1/2 inch thick) slices fresh pineapple, grilled and minced
3 cups heavy cream
1 cup whole milk
5 allspice berries
3 whole cloves
2 cinnamon sticks
¾ cup sugar
6 egg yolks
In a large saucepan over medium heat, warm the cream and milk, stirring occasionally, to just below boiling, about 200 degrees.  Add the allspice, cloves and cinnamon.
Remove from the heat, cover and let steep for 30 minutes.  Strain the mixture and return the liquid to the saucepan.  Over medium heat, warm the infused mixture to 140 degrees.
In a large bowl, whisk the sugar and egg yolks vigorously until pale and fluffy.  Whisking continuously, slowly add some of the warm cream mixture to temper the eggs.
Return all to the saucepan and warm gently, stirring constantly, until thickened, about 6 to 10 minutes.  Add the pineapple, cover and refrigerate for at least 4 hours or up to overnight.
Pour into an ice cream maker and prepare according to the manufacturer's instructions.