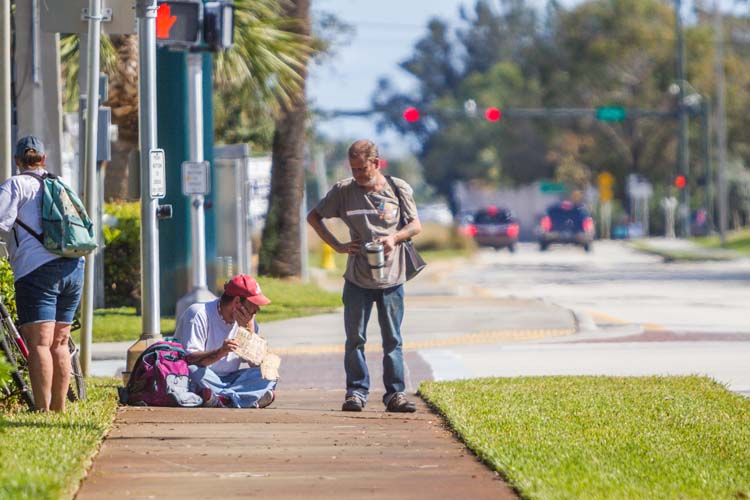 If you regularly drive around the Vero mainland, you've probably seen panhandlers at certain busy intersections – U.S. 1 and 17th Street, U.S. 1 and 20th Street, and U.S. 1 and Aviation Boulevard.
Sometimes they're standing. Sometimes they are sitting on something or reclining on the ground. Almost always, they've got some sort of sign – often with the hand-scrawled words "God Bless" or "Please Help" or "Need Work" – asking for a handout.
You may want to help them. You probably can afford to part with a few dollars, and they look like they could use the money. But if you are like me, you may also be uncomfortable. Panhandlers hanging out along the road don't seem to belong in Vero Beach. This is not Tampa or Fort Lauderdale.
But it turns out they have a right to be there, holding up their signs and asking for assistance, because Vero Beach does not have a law that prohibits panhandling at intersections.
"It's not illegal," Vero Police Chief David Currey said. "If they're on a sidewalk, not disrupting the flow of traffic and not accosting people, they're not breaking the law. In fact, we have to be careful not to violate their constitutional rights.
"I've seen them myself, and my officers have seen them," Currey said. "Cars will be stopped at an intersection and people are waving a few dollars at them. But that's why they … are out there.
"As long as people give them money, they're going to continue to do it," he added. "They're not going to stand there or sit there all day long if it's not productive. But if they keep getting, they'll keep coming back."
Vero Beach officials are aware of the panhandling problem, City Manager Jim O'Connor said, and they've had numerous conversations about adopting a city ordinance to prohibit the practice.
But they've been unable to come up with anything they believe will be defensible in court.
"You can't prohibit people from standing on the sidewalk," O'Connor said, adding, "We've talked to other communities that are dealing with the same issue, and every one of them is saying the same thing – that the problem seems to be getting worse.
"But they're all struggling to come up with a way to stop it."
In July 2016, the city of Sebastian passed an ordinance that prohibits panhandling at 12 intersections, including those at County Road 512 and U.S. 1, Barber Street and U.S. 1, and County Road 512 and Roseland Road.
The ordinance makes it unlawful "for any person to solicit money for any cause" at the city's "busiest and most dangerous intersections," where "drivers need to be most alert and more aware of their surroundings …"
It further states: "People walking outside of the pedestrian crosswalks and between lines of temporarily stopped vehicles in an effort to solicit money . . . create an unnecessary distraction and pose an unacceptable heightened risk and danger to the public health, safety and welfare."
Why hasn't Vero Beach adopted a similar ordinance?
O'Connor said he has discussed Sebastian's solution with City Attorney Wayne Coment and, "We're not sure it's legal."
Panhandling is also a problem people complain about in the unincorporated county, but it occurs mostly in shopping center parking lots, such as those at the Wal-Mart on State Road 60 and the Publix at U.S. 1 and 12th Street. There also have been complaints about panhandlers at the intersection of State Road 60 and 58th Avenue, as well as near the base of the I-95 entrance and exits ramps in Vero Beach and Sebastian.
"We have our share of panhandlers, too, but it's not as big an issue for us as it is for the city," Sheriff's Maj. Eric Flowers said. "People do seem to be noticing more this past year, but I don't know why. We've been dealing with it for years."
Both Flowers and Currey said it's difficult to track the number of complaints about panhandlers because they're logged as "suspicious person" calls.
"If you do see a problem with panhandlers, I'd encourage you to call us," Flowers said. "We'll go out and talk to them."
Currey said many businesses, especially those along U.S. 1, have filed trespass affidavits with his department, which gives police the authority to remove transients and potential panhandlers from the property without the owner or customers having to call in specific complaints.
That's why you no longer see panhandlers operating at the drive-thru exits at the McDonald's on U.S. 1 and 19th Place.
"We can't keep them off the sidewalks, but they can't be within 30 feet of an exit or entrance," Currey said. "And if they're blocking the drivers' view or distracting drivers as they're trying to pull out onto a busy corridor, it becomes a public safety issue and we can act."
O'Connor said the city is considering posting signs to discourage panhandling, but there are legalities to contend with there, too, and, "I'm not sure how much good it would do."
Currey said he isn't sure if there has been an increase in panhandling around the city or whether the panhandlers have simply become more visible because, as a result of the trespass affidavits, the major intersections are their only remaining good options.
"There might be more evidence of it because you see them at the only places they can be," the chief said. "We're trying to be proactive, but most of these people are harmless. In some cases, they're our eyes and ears on the streets. Some of them even have homes."
When panhandlers are arrested, he added, it's usually for "nuisance crimes," such as trespassing, having an open container and disorderly intoxication."
Many of the panhandlers do leave behind litter at their intersections. Some urinate in public, behind buildings. A rare few harass or distract drivers.
Mostly, though, they simply stand there with their signs and wait for people to wave them over and give them money.
"The main complaint we get is, 'They're there,' " Currey said.  "People want us to tell them, 'You can't be out here.' But we can't legally do that."
At the moment, there seems to be only one way to make the panhandlers who make you uncomfortable disappear.
Don't give them money.