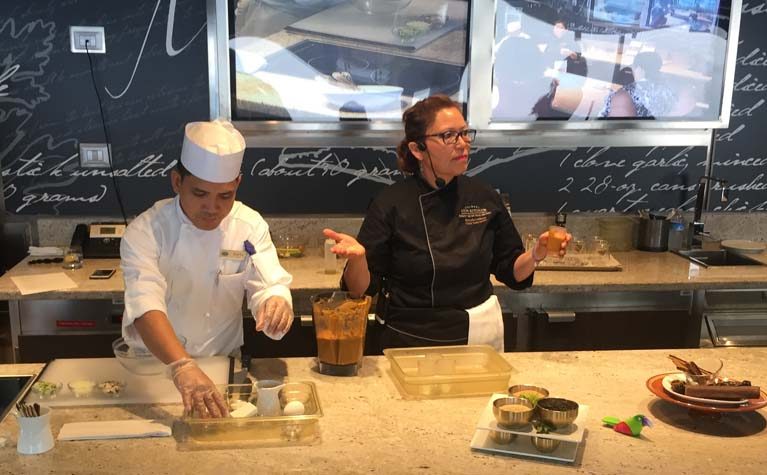 Like most foodies, I love to cook. On evenings when I am not checking out a restaurant for this column, I generally can be found in the kitchen, preparing that night's dinner. I often conclude the day reading cooking magazines as I watch TV cooking shows.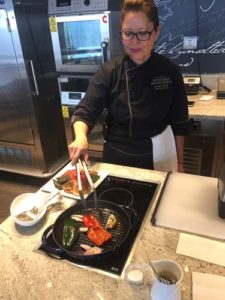 I have always loved cooking classes.  I took them for years in Washington at L'Academie de Cuisine – one of the top cooking schools in America which Francois Dionot sadly closed in December after a 41-year run – and I have attended a few on vacations (yes, I enjoy them that much).
I also have been intrigued by the growing number of cooking classes and demonstrations offered on cruise ships. Some include celebrity chefs as well as those from the ship's own kitchens. Oceania, Holland America, Celebrity – they all are getting in on the act, some with a broad curriculum of impressive culinary courses, others with demonstrations that I haven't found particularly useful.
But on a cruise earlier this month on Regent Cruises' Seven Seas Explorer, I had an opportunity to take a couple of classes in the ship's spectacular Culinary Arts Kitchen – a facility that rivals any cooking school on land.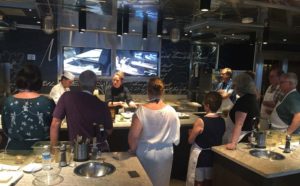 This may well be the most amazing setup at sea – 18 fully-equipped, state-of-the-art cooking stations that allow attendees to take 90-minute cooking classes during which they prepare dishes, which vary from day to day, under the guidance of a veteran chef.
The program is run by chef Kathryn Kelly, a creative food mastermind who developed the first hands-on cooking classes at sea a half dozen years ago on a couple of Oceania's ships.
One very big difference is that in classes on the Seven Seas Explorer, there's no sharing.  Each participant has her own top-of-the-line induction cooktop, stainless steel sink and collection of cooking essentials. In these classes, you get your hands into the food; watching a partner do the work is not an option.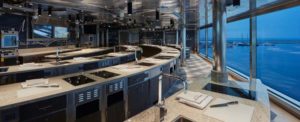 The first class I took was called "The Foodie's New World."  Led by chef/instructor Brenda Lanoue, who has taught at the Culinary Institute of America in the Napa Valley and is one of several chefs recruited by Kelly to lead classes at sea, this course focused on preparing such dishes as spicy gazpacho, ginger-spiced chicken, and my husband's favorite, "drunken sailor cake" – a very easy to make rum cake. (I'll post the recipe online at VeroNews.com).
Supported by two sous chefs and a pot-washer (wish I had one of those at home), Lanoue had a very pleasant manner that was open and inviting to experienced and not-so-experienced cooks alike.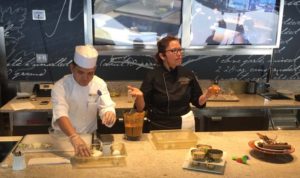 "You're here to have fun," she told the class. "The way it works, I'm going to lay out the ingredients step by step, the way they are laid out in the recipe.  After that, I will demo the first dish, then you will go back to your station where the team will have laid out everything you need, and you'll prepare the dish. Then you will come back up and I will demonstrate the second dish."
It was indeed fun, and I also picked up some useful tips. So I put my name on the waiting list for a second session, and as good luck would have it, a spot opened up in "Floribbean: Florida meets the Caribbean."
That course explored the fusion of such Floridian and Caribbean dishes as spiced snapper on wilted greens with mint labneh, wasabi-encrusted grouper, and Florida shrimp with snow peas, glazed apple and mustard crema. Yum.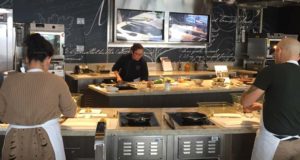 Alas, the cruise came to an end before I could sign up for any of the other seven sessions (a course promising to impart the secrets of Argentine-style master grilling sounded particularly interesting).
But the Seven Seas Explorer will be sailing 10-night cruises out of Miami until late March when it heads to the Mediterranean. So let's see, if I take two classes per cruise  . . .
I welcome your comments, and encourage you to send feedback to me at tina@verobeach32963.com.