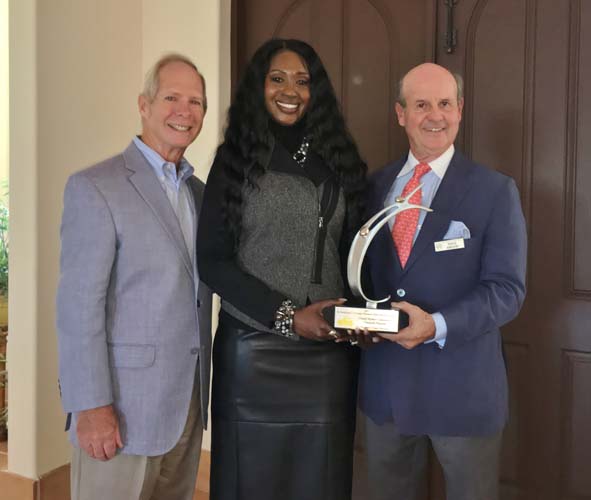 Members of the Grand Harbor Community Outreach Program gathered at the lovely St. Andrews Island home of Dale and Betty Jacobs Jan. 18, representing the organization as it was presented with the Children's Home Society's 2017 R. David and I. Lorraine Thomas Child Advocate of the Year Award, its highest honor.
The Grand Harbor Community Outreach Program was formed to address the unmet needs of the community and last year alone granted more than $390,000 to local charities. The CHS Treasure Coast Division, one of 12 statewide, provides services to roughly 11,000 children in four counties who find themselves in unsafe family situations.
In his welcome to the group, Dale Jacobs, who serves on the CHS corporate board and the GHCO board, spoke about some of the innovative, cost-effective changes enacted by CHS CEO Mike Shaver: a Case Aim program that takes some of the administrative burden away from Case Managers, enabling them to spend more time with their clients, and the Community Partnership Schools program, instituted locally at Pelican Island Elementary School, which brings resources such as wellness services and food pantries into Title I schools.
Sabrina Sampson, Treasure Coast CHS executive director, noted that one of the many reasons Grand Harbor Community Outreach was chosen for the award is its support of the Transitional Living Center in Vero Beach, which assists young adults ages 18 to 23 who would otherwise have nowhere to live.
"If we want them to be productive members of this society, then someone needs to invest the time, the talent and the energy to help them get there, because none of us did this on our own," said Sampson.
The program costs roughly $300,000 every year and, despite the lack of any state funding, has met that obligation for the past eight years thanks to contributions from individuals and groups such as Grand Harbor Community Outreach.
She noted that on paper Grand Harbor donated more than $70,000 to CHS, adding that the actual amount was considerably higher as it does not include the extremely generous number of toys, gifts and gift cards annually given each Christmas.
Doug Sweeny, GHCO board president, said he was accepting the award on behalf of Grand Harbor Community Outreach's 400 generous donors and 150 volunteers.
"Our theme for the last few years has been to provide hope and help to our neighbors in need so that they can lift themselves out of poverty. And there's no better way to start than with children, who are in poverty but not through any fault of their own," said Sweeny. "The most effective way to transform lives is to help the young people whose lives are just beginning."
Photos by: Mary Schenkel
Click HERE to see more or buy photos