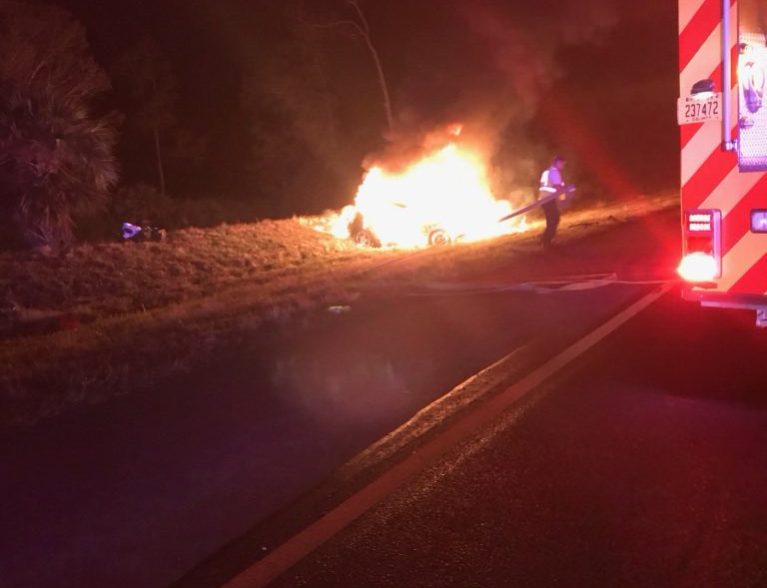 FELLSMERE — A 53-year-old Vero Beach man is dead after a fiery crash involving five vehicles along Interstate 95 early Tuesday, according to the Florida Highway Patrol.
A tire blowout on one of the vehicles caused the chain reaction crash.
William Conn, 53, was pronounced dead at the scene, said FHP spokesman Alvaro Feola. He was not in the vehicle that caught fire.
Troopers said Tracey Dashawn Williams, 45, of Fort Pierce, was driving a Volvo tractor-trailer about 6 a.m. Tuesday on northbound Interstate 95 near mile marker 159. He was in the center lane when his left front tire had a blowout, and then he tried to pull on the left shoulder, an FHP report shows.
A Chevy Impala driven by Katrina Steele, 26, of Melbourne, was in the left lane and tried to swerve to avoid the Volvo, but crashed into the back of the trailer, twisting the Impala to face southbound.
Conn, who was driving a Pontiac Vibe, was in the center lane and hit the back of the Volvo.  The Pontiac remained in the center lane after impact, where it was hit by a Volkswagen Jetta driven by Desmond Smith, 40, of Daytona Beach, the report shows.
The impact caused the Pontiac to rollover and face west in the center and right lanes. A fifth vehicle – an Audi – also struck the back of the Volvo trailer, spun clockwise and went into the median, where it caught fire.
The driver of the Audi, 34-year-old Matthew Hardy, of Aventura, got out of the vehicle before the flames spread, Feola said.
No other injuries were reported from the crash. The crash caused northbound lanes on I-95 to be closed for several hours; all lanes reopened about 1:30 p.m., according to Fellsmere police.
Alcohol was not a factor in the crash; it remains under investigation by the FHP.
Photos provided by Fellsmere Police Department
No further information was available.