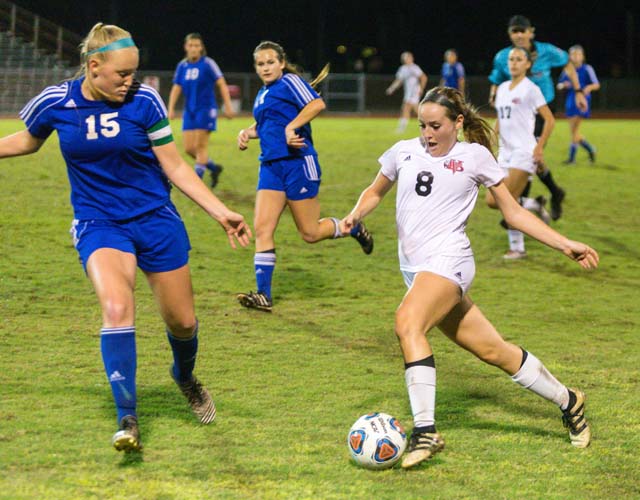 Third-year head coach Dan Dickens prefers to use the term program instead of team when talking about his stewardship of Vero Beach High girls soccer. What is happening this season lends a large dose of credibility to that philosophy.
After defeating Heritage 5-1 last Thursday on Senior Night at the Citrus Bowl, the Fighting Indians were 12-3-1 overall. Of greater significance was the 9-0 record in District 10-5A with a makeup game against Fort Pierce Central this week. Vero will be the overwhelming favorite to capture an eighth straight district title when the playoffs commence next week.
All would have been excused if it didn't turn out this way.
"I believe we are the youngest team in the state," Dickens said. "On a typical day we will start seven freshmen, three juniors and a sophomore. In training camp I was just starting to understand the players and where they might fit in.
"More than anything, from top to bottom, these players just love the game of soccer. They don't get rattled, they are never too high or too low. During a game they move on from mistakes – or from those high points where you can lose focus – and they just keep playing because they enjoy it."
Vero reached the Final Four and Elite Eight for Dickens in his first two seasons. Despite the youth movement, there is no apparent reason right now to downgrade expectations. This group was not just thrown together randomly. Junior co-captains Kate Hassell and Lauren Barkett have essentially grown up playing soccer with many of their current teammates on "comp" (competitive club) teams.
"At the beginning of the year I thought it would be a matter of getting into a groove because we lost eight starters from last year," Hassell explained. "We had to fill in all of those spots on the field and I thought we would have to come in and try to figure out what we were doing.
"But we've actually been really good. I didn't think we were going to be this successful – and it didn't take very long. I believe we are exceeding our goals.
"We all work together really well and we have a good thing going. The atmosphere is good and we are all friends. The (freshmen) players that came in have played together on the same club team with some of us it seems like forever. We've kind of all grown up together around soccer. Because we all knew each other it was so easy to come in and just be able to play.
"We are going to try to continue to win and see how far we can go. Whatever happens, happens. We will continue to grow. Next year we will be even better. This is a fun group, but we can come together and be serious when we have to."
Barkett found lacrosse somewhat boring before trying recreational soccer. She found her footing there and it got serious when she was selected for a "comp" team. Now she's in a leadership position on the VBHS varsity.
"Honestly it's just really easy being a team captain," Barkett told us. "Everybody is so open to listening and trying to get better. We are all very close and we do a lot of team bonding.
"We've all known each other and played together since we were much younger. I was the only starter on defense coming into the season. We now have a lot of freshmen playing defense and we are really strong. Everything has blended together very well."
Everyone acknowledges that the plan is to get as far beyond districts as possible – and enjoy it every step of the way. Dickens said, "I just roll the ball out there and let them have fun. This year has been so enjoyable with these kids because they don't play with stress.
"Our growth has been faster than I expected. Five games after districts and you are in the state championship game."
Additionally, something special is noteworthy here. Sophomore striker Madelaine Rhodes tallied five goals in two games last week to up her total to 39 for the season … in only 16 games. The entire team had 74 at that point. Dynamic scoring like that merits further exploration and we will address that next week.