When taking a cruise on one of the most elegant, upscale ships afloat, you naturally imagine that a special wine-and-food-pairing event is going to be – well, pretty special.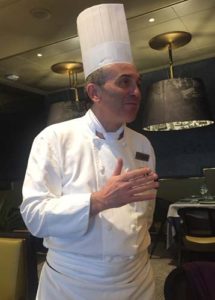 And last week, the six-course "Connoisseur Wine Lunch" aboard Regent's Seven Seas Explorer more than lived up to expectations.
The quite moderate $169 price of admission was an amazing bargain considering that the vintages offered – if the bottles could even be found in a Vero wine store – would collectively run well into four figures!
The event, hosted in Pacific Rim, the Explorer's stunning Pan-Asian restaurant, began with Siberian caviar served with the traditional condiments and tiny fresh buckwheat blinis, accompanied by a glass of Moet et Chandon's 2006 Dom Pérignon.
The dark grains of the caviar had a fresh, slightly fruity taste, and paired nicely with the lively and elegant Champagne. A great start.
Next came slices of braised Black Foot chicken breast with a morel and aged Comte cheese crust, served with a Champagne Cognac and crayfish sauce.  The chicken was paired with a 2015 Far Niente chardonnay from the Napa Valley. The richness of the wine, with its creamy, oaky accents, made it an excellent accompaniment.
The third course consisted of a beautiful seared scallop topped with a very thin slice of chorizo, served atop butternut squash spaghetti. It was paired with a 2014 Joseph Drouhin Pommard pinot noir from the Côte de Beaune, an area in Burgundy that produces some of the world's top white wines.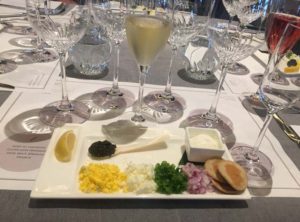 While my husband would normally always choose a chard to accompany sea scallops, even he was forced to agree the pinot noir was a better choice for this partnering of a scallop and chorizo. An inspired selection.
The fourth course brought forth slices of roasted milk-fed veal filet served with a raspberry and rhubarb marmalade and Swiss chard. This was paired with a 2012 La Jota Vineyard Howell Mountain merlot from Napa. This dark purple-colored wine was plump, complex and succulent. We thought it somewhat overwhelmed the veal, but it was delicious.
For the fifth course, we were served 72-hour sous vide beef ribs Rossini with truffle royale, seared foie gras, and sauce perigourdine. It was paired with what my husband and I thought was the standout wine of the lunch, Marchesi Antinori's 2013 "Solaia" cabernet sauvignon from Tuscany.
Solaia is a profound wine, with a dark and thick texture, based mostly on cabernet sauvignon grapes but with Sangiovese and cabernet franc in supporting roles. This was, in our view, the perfect pairing – beef ribs that melted in your mouth, complemented by an intense wine with an admirable complexity.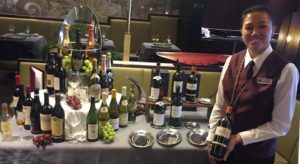 While the Solaia is quite dear, the ship's head sommelier, Joliza Fulgar saved the most precious wine for last – Chateau d'Yquem's 1999 sauterne, viewed by many aficionados as the greatest of the great sweet Bordeaux wines.
I'm told 1999 was a particularly impressive year for this vintage. I'm not a big fan of dessert wines, and I'm sure some readers would have been much more appreciative of the Chateau d'Yquem sauterne than I was. But paired with a coconut tres leche with a cardamom vanilla sauce, it was an excellent way to end a memorable meal.
In our travels over the past couple of years, I've noted that wine tasting and wine pairing events are increasingly popular. We generally try them aboard ships, as we do quite often in Vero.
In what is becoming something of a "can-you-top-this" competition on the bounding main, this latest opportunity to explore some thoughtfully selected vintages aboard Regent's Seven Seas Explorer was a high point of 10 days of creative dining.
I welcome your comments, and encourage you to send feedback to me at tina@verobeach32963.com.
The reviewer dines anonymously at restaurants at the expense of Vero Beach 32963.