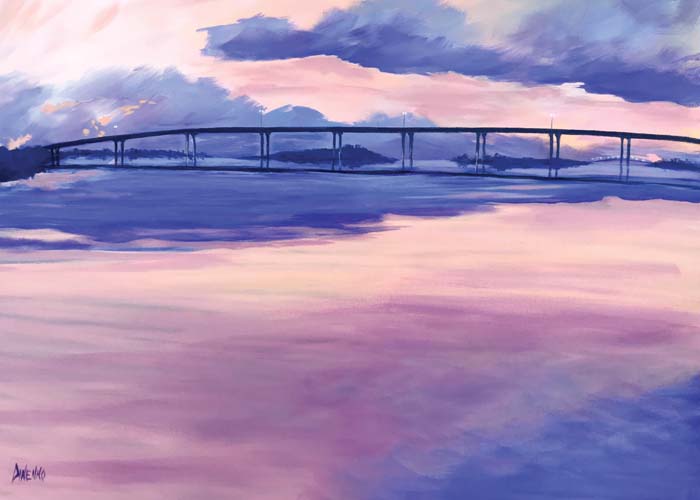 A weekend filled with art awaits, as two of the season's most anticipated fine art shows take place in two very different venues, showcasing the work of artists from near and far.
"Art by the Sea" is the highlight of the year for members of the Vero Beach Art Club, now in its 82nd year. This prestigious competition, show and sale will be set up throughout the elegant Holmes Great Hall in the Vero Beach Museum of Art, with each artist allowed to exhibit one piece of his or her work.
A private VIP reception and awards presentation will take place from 4 p.m. to 5 p.m. Friday, followed by a cocktail reception, exhibit and sale for the public from 5 p.m. to 8 p.m.
The exhibit will be open to the public Saturday from 10 a.m. to 5 p.m., and Sunday between 10 a.m. and 4 p.m., allowing visitors ample opportunity to stroll about the hall, enjoying the diverse collection of work in a wide range of categories, for which first through third place ribbons, as well as merit ribbons, will have been awarded: acrylic painting, film/digital photography, jewelry; mixed media/fabric; oil painting; pastel/graphics; sculpture/3D; and watercolor painting. Best of Show and People's Choice Award recipients will also be chosen.
Major sponsors for this year's Art by the Sea are: Riverside Theatre; Treasure Coast Financial Planning; Vero Beach Wine & Film Festival; ABC Printing; Clemens Bruns Schaub Architect and Associates P.A.; Flowers For You, Inc.; and Kmetz Nuttall Elwell Graham PLLC Certified Public Accountants.
Each year, thousands throng to a far different venue, "where art and the river meet," in and around Sebastian's oak-shaded Riverview Park, on the picturesque Indian River Lagoon, to enjoy the Sebastian Fine Art and Music Festival, now in its 17th year.
This Saturday and Sunday, 10 a.m. to 5 p.m., more than 130  juried, professional artists and craftspeople  display their work, in virtually every medium imaginable, from delicate watercolor paintings to robust wood and metal sculpture, intricate glass art to joyful, brightly colored tropical scenes, all arranged within tidy white tents,  lining Indian River Drive and Sebastian Boulevard.
In addition to the burgeoning local art community, over the years the Sebastian Fine Art and Music Festival has become a circled date on the calendars of many out-of-state artists, who travel to Sebastian each season to participate. The artists are typically right on site, more than happy to discuss their work and answer questions, and all the art is, of course, available for purchase.
The Festival committee works closely with the City of Sebastian to ensure the event flows smoothly. And it does, provided the weather cooperates. Live music will fill the air, and local restaurants will be set up on site, offering a plethora of food options, as well as beer, wine and soda.
Principal sponsors include: the City of Sebastian; Tiki Bar and Grill; Dale Sorensen Real Estate, Kathy Lee; and PakMail Beachside.
As this popular event draws a large crowd, it's a good idea to arrive as early as possible; midday traffic can be a bit of a challenge (but well worth it).