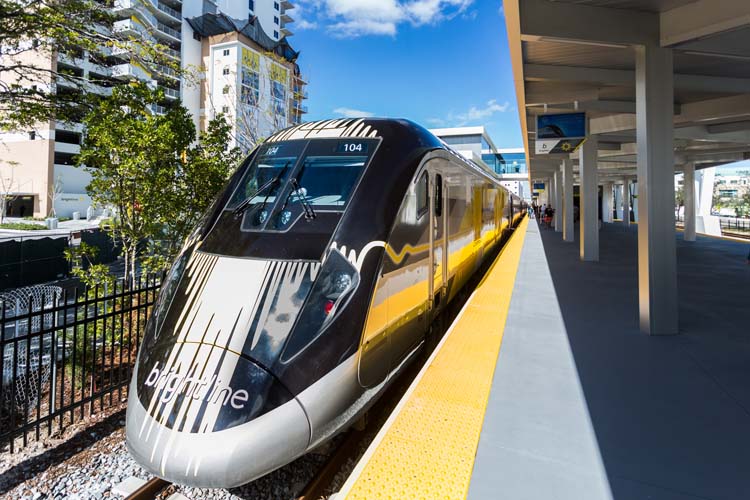 As the glitzy, new train pulled into the West Palm Beach station Saturday afternoon, completing my round-trip ride to Fort Lauderdale on Brightline's first day of public operation, I jotted down two final words in my notebook:
"Nobody died."
That was noteworthy because, only 23 hours earlier, a woman attempting to cross the tracks by foot in Boynton Beach had been struck and killed by a Brightline train offering a promotional ride to area VIPs.
It was also newsworthy because the woman was the third person killed by a Brightline train before the high-speed rail service boarded its first paying customer.
A woman died after being hit in Boca Raton during a test run in July, where authorities investigated the case as a suicide. Another woman was killed on the tracks in Deerfield Beach during a test run in November.
According to Boynton Beach police, witnesses said the woman killed shortly before 6:30 p.m. last Friday had ducked under the gates and attempted to beat the train across the tracks.
Perhaps that's why the train on which I was riding slowed noticeably for about a minute as we rolled through a section of Boynton Beach on my return trip to downtown West Palm Beach.  Or maybe it was because a group of five pre-teen boys was standing alongside the tracks as the train rolled by.
No explanation was given, and the train soon accelerated to its normal speed – passengers using a speed-detecting app on their smart phones said we averaged 75 mph and hit a high of 83 mph – as we completed the 39-minute, northbound trip without incident.
The southbound trip, by the way, did not include any slowdowns and took only 37 minutes.
Both trips, though, provided a taste of what we can expect when Brightline expands its service to Miami later this year and, if all goes as planned, to Orlando in two years.
So here's what I can tell you . . .
It's a really nice train. The leather seats are comfortable. The carpeted aisles are wide. The amenities include free wireless internet, power outlets and USB ports. And – on opening day, at least – the service was outstanding.
Every Brightline employee I encountered at the station – the greeter at the entrance, the women at the ticket counter, the security guards in the passenger lounge, even the custodian – was smiling and friendly.
The same goes for the attendants on the train, where they served beverages and snacks, similar to what you'd see on an airliner.
Even on opening day, though, a day the train company heavily promoted and has been preparing for years, the train was  not packed. There were plenty of people onboard but also some empty seats.
Back inside the two-tier station, which is bright and airy with large windows, there's a snack bar and gift shop, restrooms and separate lounges for coach and "Select" passengers.
(Since Brightline's introductory, one-way fares for the abbreviated service were only $10 for coach and $15 for "Select," I opted for the higher-priced ticket, which put me in the passenger car that offered slightly larger seats and a free adult beverage.)
While security guards were visible and only ticketed passengers could access the upstairs lounge areas, there wasn't a security check and I was not required to pass through a metal detector.
Maybe that's impractical for train travel, because, during my sports-writing days, I covered several Olympics in Europe and didn't go through any security screenings at rail stations there, either.
Here, at both the West Palm Beach and Fort Lauderdale stations, I felt safe.
That goes for the ride, too.
It was so smooth, so quiet that it didn't feel as if we were traveling very fast. That sensation could change when Brightline expands its service through the Treasure Coast and on to Cocoa, where the tracks will veer west to Orlando.
The longer, non-stop, often-straight stretches will allow the trains to reach speeds exceeding 100 mph and supposedly enable them to travel between Orlando and Miami in three hours, including the stops in West Palm Beach and Fort Lauderdale.
On this day, anyway, I had no complaints. Nor did I hear any from my fellow passengers on either of my two trains, both of which departed and arrived on time.
All in all, my round trip on Brightline was, in every way, a pleasant experience that fully lived up to Brightline's slogan: "The carefree, car-free way to travel." And, purely as a mode of transportation, this high-speed rail service should be a terrific addition to South Florida.
But I still don't want it anywhere near us.
First, there are the safety concerns, which should be obvious after three fatalities on the West Palm Beach to Fort Lauderdale stretch alone – and, again, that was before Brightline began regular operation with frequent trips each day.
Clearly, there's a danger to allowing trains to travel at 75 to 85 mph alongside houses, businesses and roadways in densely populated areas with no safety barriers.
To allow those same trains to pass through our community 32 times per day at speeds in excess of 100 mph would, it seems to me, be bordering on reckless, especially if Brightline refuses to erect the above-mentioned safety barriers.
How many more people must die before somebody with the authority to regulate the rail industry does something?
Then there's the noise issue.
The train's horn blew almost constantly throughout my Brightline round-trip. That's because the so-called "quiet zones" – railroad crossings with federally regulated safety upgrades that enable trains to pass through without blowing their horns – haven't yet been built between West Palm Beach and Fort Lauderdale.
The Palm Beach Post reported three weeks ago that the quiet-zone upgrades aren't expected to be completed along the stretch from West Palm Beach to the Broward County line for four to six months and residents who live near the tracks already are complaining.
Those same upgrades will be needed in our county, which has 30 railroad crossings, to avoid what will seem like a relentless, daylong shriek of train horns. Guess who's going to pay for them? Not Brightline.
Finally, there's the dramatic increase in freight traffic that I firmly believe will follow Brightline's expansion through our community.
The Panama Canal has been widened. The seaports in Miami and Fort Lauderdale are being expanded and the projects include new rail lines. And, as has been proven across America, passenger rail service is not profitable.
Hauling freight is.
So don't be surprised to see more slow-moving, traffic-stopping Florida East Coast Railway freight trains chugging along on the extra tracking installed for Brightline's speedsters.
The change, I'm guessing, will be so gradual that we won't notice it – until an ambulance is stuck at a crossing, wasting precious minutes as it waits for the freight trains to pass.
Remember: Most of the county's population resides west of the tracks, but both of the county's hospitals are located east of the tracks.
That's a potential danger.
So are 100-mph passenger trains darting through our community, where, at those speeds, they'll pose an even greater threat to pedestrians than they do in South Florida.
And what if there's a derailment?
We've seen it happen elsewhere. Don't tell me it can't happen here. I've spoken with a few first responders, and they tell me such an event would be catastrophic.
None of that matters, though.
The battle has been lost, regardless of what you might hear from opponents who refuse to surrender. Brightline is a reality.
And at some point in the next several of years, we'll see these high-speed trains zipping through our community.