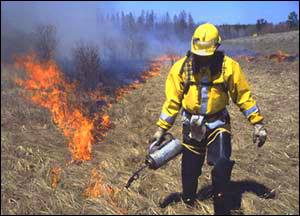 Residents are likely to smell smoke this week because of a series of prescribed burns planned at a state park, officials said.
The Florida Department of Environmental Protection will conduct an estimated 600-acre burns daily from Tuesday through Friday, if weather conditions are fitting. The burns will be held at the St. Sebastian River Preserve State Park, which stretches from southern Brevard County to northern Indian River County.
The burns, which will consist mainly of pine flat woods, will be near the Brevard and Indian River County line and will be visible to motorists on Interstate 95, officials said.
Prescribed burns reduce undergrowth that develops overtime, which lessens the risk for a wildfire. They also imitate natural fire cycles to revitalize healthy forests and natural communities.
Burned lands lead to an increase in native wildflowers, birds and other wildlife, officials said.
Prescribed burns are only done when weather conditions are reasonable. Decisions to burn are made daily after officials review the fire weather forecast for that day and get a burn authorization from the Florida Forest Service.