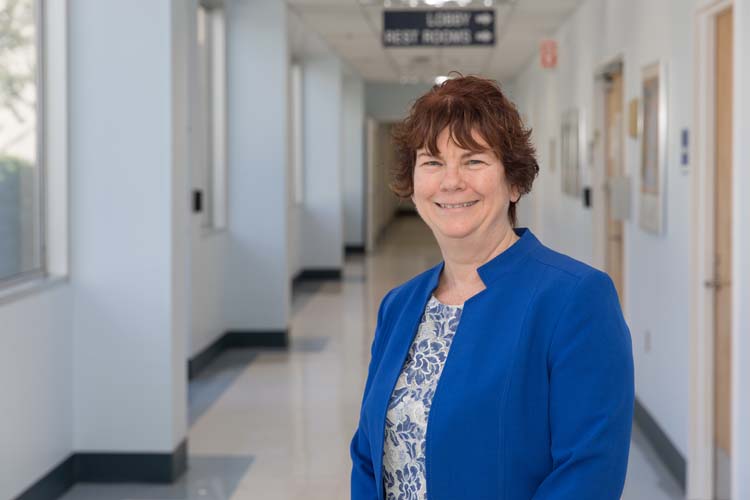 The new administrative director of Vero Beach's Behavioral Health Center has only been on the job a couple of months now, but Anne Posey is no stranger to the field of mental health – which includes issues related to stress and stress reduction.
"Mental health is kind of my passion," Posey says. "I actually started at Lawnwood Pavilion, which was part of Lawnwood Regional Medical Center. Way back in the day it was called Harbor Shores Hospital and I was there for about 12 years."
After a five-year foray into child welfare work, Posey came back to the mental health field as the division director of crisis stabilization services for New Directions of the Treasure Coast from 2005 to 2015.
From there she went on to serve as the regional director for southern Florida at TrueCore Behavioral Solutions before relocating to Vero in November 2017 to take over at the Indian River Medical Center's Behavioral Health Center.
Posey is well aware that – to most people – the Vero Behavioral Health Center is most often linked to Baker Act patients.
The University of Florida describes the Baker Act as "a Florida law that enables families and loved ones [as well as judges, law enforcement officials, physicians and mental health professionals] to provide emergency temporary detention for people who are impaired because of their mental illness," adding that, "people who require the use of the Baker Act have often lost the power of self-control and they are likely to inflict harm to themselves or others."
Posey echoes that description, saying, "generally people are here because they're experiencing some type of mental illness that makes them suicidal or wanting to hurt others, or they're at such a point where they're just not able to take good care of themselves and provide for their own safety."
But on this particular day, Posey's conversation turns to a somewhat less dramatic – albeit far more common – mental health issue: stress and stress management.
"Stress, before it becomes distress or depression," Posey explains, can "generally last a couple, three weeks before people are really starting to feel significantly impaired by it," but not all stress, she points out, is bad.
The Mayo Clinic agrees. "Stress," says the famed Rochester, Minnesota institution, "is a normal psychological and physical reaction to the demands of life," adding that, "a small amount of stress can be good, motivating you to perform well.
"Your brain comes hard-wired with an alarm system for your protection. When your brain perceives a threat, it signals your body to release a burst of hormones that increase your heart rate and raise your blood pressure. This 'fight-or-flight' response fuels you to deal with the threat.
"Once the threat is gone, your body is meant to return to a normal, relaxed state. Unfortunately, the nonstop complications of modern life mean that some people's alarm systems rarely shut off."
And while the holidays can add to anyone's stress level, so can seemingly innocuous things such as being stuck in traffic, meeting work deadlines or even just paying your monthly bills – all can keep those alarm bells ringing.
Posey suggests a few tips that may help.
"Number one," she suggests, "acknowledge that the stress exists. You can't deal with something when you're ignoring it. So, if people are saying to you, 'You really appear stressed-out' or if you notice that you're not sleeping well or you don't feel good … acknowledge that you have stress."
Then, Posey suggests, try talking with someone you trust, whether it's a friend or a doctor or a pastor.
Other healthy coping mechanisms might include increasing your exercise level, concentrating on a healthier diet, making lists to prioritize your "to-do" projects and perhaps even more importantly, says Posey, "learning to say no."
"A lot of people," Posey continues, "have a lot of demands on them and they don't really know how to say, 'No. I can't take that on right now.'"
If those tips don't do the trick, says Posey, "see someone professional who can help you."
As the American Psychological Association points out, "untreated chronic stress can result in serious health conditions including anxiety, insomnia, muscle pain, high blood pressure, a weakened immune system, heart disease, depression and obesity."
But the Cleveland Clinic emphatically states "when appropriately applied, stress management training can reduce the degree and the intensity of your current stress reactions and help you develop the skills for preventing additional, harmful stress reactions."
Indian River Medical Center's Behavioral Health Center is located at 1190 37th St, Vero Beach; the phone number is 772-563-4666.