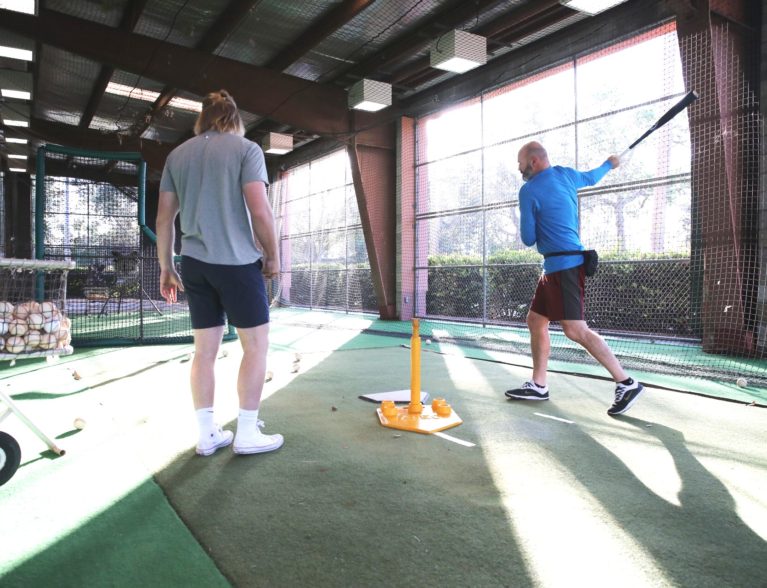 A former professional baseball player who helped lead the Los Angeles Dodgers to win a World Series recently visited Historic Dodgertown in Vero Beach, where he started his career.
Kirk Gibson, 60, of Michigan, was welcomed by Historic Dodgertown Chairman, Peter O'Malley, at the multi-sports facility and conference center this past weekend. Gibson was with his son, Cam, who is a professional baseball player with the Detroit Tigers, according to officials.
Gibson stepped back on the Holman Stadium Field, saw his former clubhouse and took a few swings at the batting cages. He also saw souvenirs from 60 years of Dodgers history displayed in the Championship Hall, the Jackie Robinson Room, Roy Campanella Room and Campy's Bullpen, the Bruce Froemming Umpire Room and more.
Gibson shared stories about his teammates and the famous World Series home run.
"Kirk has extraordinary memories of Vero Beach and Spring Training. Kirk's professionalism and commitment to winning has made a lasting impact on the Dodgers organization," O'Malley said.
Throughout his career, Gibson has played for several professional baseball teams including the Detroit Tigers, Los Angeles Dodgers, Kansas City Royals and Pittsburgh Pirates.
This year marks the 30th anniversary of the Dodgers winning the 1988 World Series and Gibson's pinch-hit World Series Game 1 home run.
"I have been thinking a lot lately about 1988, being the 30th anniversary of our World Championship," said Gibson.  "Because I was in Florida, I took the invitation of Peter O'Malley to stop by and relive being part of the organization's great accomplishments that year. I was really overwhelmed with the positive atmosphere this special place brings to me."
Gibson's home run was voted the "Greatest moment in Los Angeles Sports History" by the L.A. Sports Council and is considered one of Major League Baseball's all-time great and dramatic home runs.
Gibson spoke to students at the Minor League Baseball Umpire Academy and campers at the Baseball Factory, Softball Factory and the Catching Camp. His advice to aspiring players – "stay positive and don't let adversity discourage you from being better prepared next time."
"Most of all, it was an honor to be able to share Historic Dodgertown with so many people today who love our great game," Gibson said.
Photos provided by Historic Dodgertown