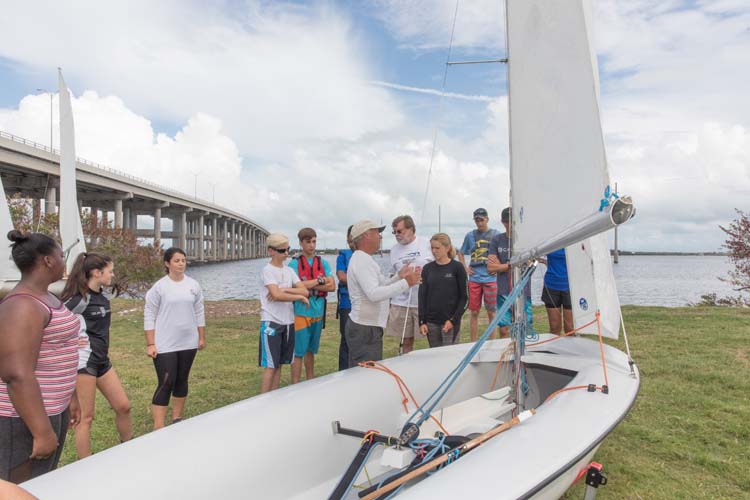 Having already enjoyed great success collaborating with the Vero Beach High School and Charter High School Sailing Teams, the Youth Sailing Foundation of Indian River County set sail into uncharted waters this year with an expansion of its programs into the elementary and middle school levels.
The nonprofit was founded in 2009 by Charlie and Chris Pope to provide youngsters with free sailing instruction, initially just on single-handed sailing dinghies known as Optis. In the process of learning how to rig and pilot their own sailboats, the young sailors have also acquired life skills, confidence and a love of the sport.
The organization has continued to grow through the hard and fast determination of volunteers eager to share their passion for sailing, and today the sight of a small squadron of variously sized sailboats zipping down the river is a common occurrence.
"We've just started what we hope will be an expanded program of after-school sailing for elementary and middle schools with the Beachland Sharks and the Gifford Dolphins. If we can get them young, we can build a base," explains Stu Keiller, YSF executive director, noting that they exceeded their initial expectation of 12 students from each school, hosting 20 from Beachland and 22 from Gifford.
Keiller says their goal is to build a sailing culture here, adding, "the only way to do that is to get people out on the water. If we can get the kids out on the water, the parents will follow. The kids will grow up, come back to town and be sailors."
Students meet after school once a week to learn the ropes at the YSF waterfront facility on the southwest side of the Alma Lee Loy Bridge.
"We meet first in the classroom for 'chalk talk' to explain and teach concepts in regard to sailing, and then we get on the water as fast as we can," explains YSF instructor Donathan Williams.
Williams was taught to sail by his grandfather and became a volunteer to share the experience with son Brendan, who joined the program two years ago. Williams says Brendan, a junior at VBHS, has gained a great deal of self-confidence, adding, "He's not fearful of new experiences anymore. He just said to me a couple days ago, 'Dad, let's sail around the world.' He's learned to love the water. There is no experience like it when you feel the wind take your boat and launch you off. If you can control it, understand the mechanics of sailing and harness that, it's amazing."
Holly Gandolfo, a senior and captain of the VBHS Sailing Team, joined three years ago after moving to Vero Beach.
"They didn't have sailing where I used to live, so it was something new. I love sailing because it's fun. You can go fast out on the water and it's a nice way to relieve stress. You're one with nature," she says. "I've learned a lot from sailing – how to work as a team with your crew, good communication skills and how to be competitive. I plan to sail for the rest of my life and hopefully retire, buy a boat and sail around the world."
The young sailors get more than just their feet wet in the Indian River Lagoon, the most diverse estuary in North America, as science, math and environmental concepts from the U.S. Sailing STEM Education Initiative curriculum are incorporated into the program.
"We think they can be stewards of the water if we get them early and get them interested. They have their noses in the water," says Keiller. "What better time to start talking to them about the environment, particularly just focusing on the lagoon. We're in the process of developing a more sophisticated program with Harbor Branch right now that we hope to introduce in the spring."
Their annual five week sailing camp at The Moorings Yacht and Country Club was augmented this past summer by three additional weeks at Quail Valley River Club, piquing the interest of even more children.
Keiller says that all told, there were roughly 100 students sailing this past fall; more than twice what they had the year before.
Youth Sailing hopes to build a Community Sailing Center to enable them to expand their programs into all the elementary and middle schools, increase the number of adult programs and offer sailboat rentals. But first they need to secure a site.
"Once people learn how to sail, they want to sail. Right now there's no place to rent a sailboat in Vero Beach," says Keiller. "We've pitched to the City Council and all the civic organizations as much as we can about getting a piece of the power plant. That would be an ideal spot because there is a slipway there. We can put floating docks down and there's actually a building sitting out by the water that would be a perfect boat storage. We see it as part of a marine park."
Preliminary plans call for an 8,000-square-foot building, with repair facilities and limited storage on the bottom floor, plus an open classroom area, small galley and offices on the upper level. A second-floor porch would provide a great viewing platform.
"We need a facility if we want to truly sustain the sailing culture where we can have boats available for all ages," says Keiller.
The foundation will host its Steve Martin Memorial Regatta March 3 and their annual Rock the Boat fundraiser at the Moorings Yacht & Country Club on March 18. For more information visit ysfirc.org.
Photos by: Denise Ritchie
Click HERE to see more or buy photos