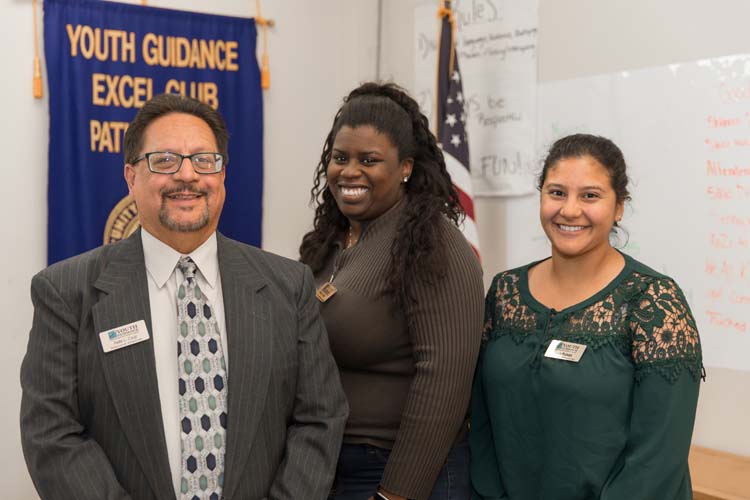 As motivational speaker Josh Shipp asserted in his TEDx talk, "Every kid is one caring adult away from being a success story."
The Youth Guidance Mentoring and Activities program staff and volunteers couldn't agree more. The organization has supported disadvantaged children in Indian River County since 1973 through its mentorship programs, where positive adult role models enrich, inspire trust and promote the self-esteem of youngsters from low-income, single-parent families.
Throughout its history, the nonprofit has primarily operated out of a small office and has leased space in various venues to run its weekly programs. Now, after nearly 44 years, they have found a permanent home for their Mentoring Academy without even having to change their address.
Felix Cruz, who was appointed executive director this past summer, was hired several years ago to develop programs for the Mentoring Academy. As the program grew, so too did the need for additional space. The nonprofit had already begun to look for an expanded location when the county announced it would sell the building where they rented office space. The four county agencies that previously shared the space had relocated to the Indian River County Administration Complex.
"The county has always been one of our best supporters and negotiated a good price on the building. We closed in October and now we have the whole building," says Cruz, whose cramped office was previously located in the kitchen. "I would be on the phone or writing a grant and people would be working around me preparing meals for the kids."
Cruz says he is working with the Vero Beach Historical Society in hopes of having the building, an early home of the Indian River County Library, designated for historic preservation.
During a groundbreaking ceremony on March 8, the nonprofit will rename the facility the Rita Dion Mentoring Academy in honor of the founder and first executive director of Youth Guidance. They hope to complete the building's redevelopment by the fall of 2018.
Board members shared their vision for the space – which has expanded their footprint from 150 square feet to 8,000 square feet – with Vero Beach High School drafting students, who have agreed to render a floor plan.
Plans include a large-group, multi-purpose room that can be partitioned off for smaller scale gatherings. Five rooms will be designated for S.T.E.A.M. (Science, Technology, Engineering, Arts and Math) activities, including a quiet place for academic enrichment tutoring, an art studio, computer lab, Rube Goldberg lab and a graphic design room.
Cruz envisions a 16-station computer lab, 3D computer setup, art classes and space where students will be challenged each semester to build the best "better mousetrap-type" inventions.
Students currently participate in programs such as the Chartered Junior Exchange (Excel) Club, 3D modeling and printing, Minecraft and coding, cooking, dance, sewing, jewelry making, sports, academic enrichment and tutoring.
Cooking classes will be taught in a remodeled kitchen and an adjacent dining area will provide space for them to eat.
"We feed all of our children in all of our programs. For many of them it's the only meal of the day," adds Cruz. "The mentors have the opportunity to actually learn how to mentor within this dynamic. The kids become more comfortable with the mentors. When a child is comfortable with an adult, they learn to trust. If they trust, then they will listen. Once you get a child to listen to you, then you've got them. They'll open up and receive assistance, guidance and mentoring."
An upcoming Capital Campaign will help fund improvement costs for construction, roof, air conditioner, computers, flooring and exterior refurbishment. Cruz has also submitted an application in hopes of receiving a 2018 Impact 100 grant. And, to defer costs, volunteers are assisting with the painting and carpeting was donated.
"Our goal is to raise about half a million dollars to put this building like it should be. We need equipment. We need state-of-the-art electronics. As a social service agency, we need to step into the 21st century. We want to put these children at the forefront," explains Cruz, adding that with the purchase comes more overhead: electricity, garbage, cleaners, lawn care and security.
"We have a good plan, we have good people and a great board that is committed to doing the fundraising to make this work," says Cruz.
Cruz was born in Puerto Rico and later moved to Brooklyn and Newark where he and six siblings were raised by a single mother who had just a third-grade education. He knows firsthand the obstacles the children they serve are up against.
"I lived in poverty my whole life," he recalls, sharing that he lived in rat-infested slums, had to shake roaches out of cereal boxes each morning and quit school at 16. "I was lost until an adult male intervened in my life. If not for that person, I don't know where I would be now."
Following the advice of his mentor, Cruz joined the military and later attended Rutgers University, where he stumbled into what would become his lifelong career and discovered the rewards of helping disadvantaged youth.
Approximately 200 children are enrolled in Youth Guidance mentoring programs each year, mentored by about 35 volunteers who learn the ropes in a group mentoring format before working one-on-one with students. Mentors can volunteer for a single eight-week semester or year round, whatever works best for them.
Support Youth Guidance by attending the annual King of the Hill Tennis Tournament at The Moorings Yacht & Country Club, 6 p.m. Tuesday evenings from Jan. 16 through Feb. 20.
For more information, visit youthguidanceprogram.org.    
Photos by: Denise Ritchie and provided
Click HERE to see more or buy photos