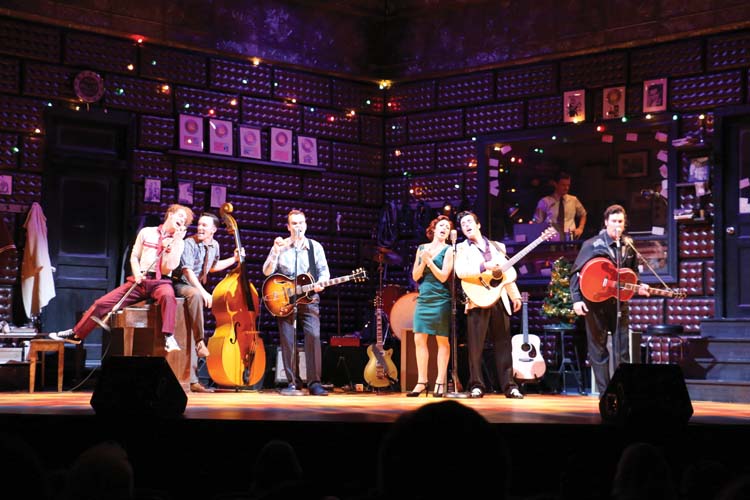 Face it. You're going to surrender to the joy of rock 'n' roll in Riverside Theatre's tightly crafted production of "Million Dollar Quartet."
The foot tapping begins almost instantly when the curtain rises on America's own "fab four" – Jerry Lee Lewis, Carl Perkins, Elvis Presley and Johnny Cash – as they let loose with a thrilling presentation of "Blue Suede Shoes."
Indeed, you'll have to fight the urge to sing and even dance along. But pace yourself. This is just the beginning of a jukebox musical about an actual event: a December evening in 1956 when these four young musical icons, all in their early 20s, found themselves meeting with their mentor, Sam Phillips, at Sun Records in Memphis.
Just as that legendary evening brought together great musical talent, so, too, does Riverside's production.
Both James Barry, who plays rockabilly great Carl Perkins, and Scott Moreau, who plays Johnny Cash, were in national tours of the Tony Award-winning Broadway production. And they're brilliant.
Barry, who is also the production's gifted musical director, carves out some fine Perkins-esque stylings and makes the electric guitar sing. Listen to the seductive whine he gets from it in the "Fever" number, sung with fabulous allure by Sarah Ellis, another fine talent who toured in "A Gentleman's Guide to Love and Murder."
Moreau, who performed in the show five years ago at the Bob Carr Theatre in Orlando, is strong and in deep, rich voice while making it all look so easy, especially in "I Walk the Line" and "Riders in the Sky."
While Sam Cieri, who was in the national tour of "Once," may not look like Elvis Presley, he sure serves up the gyrations and nails the sound in "That's Alright" and "Hound Dog."
But oh my, here comes Nat Zegree as Jerry Lee Lewis. Just as in previous productions, from Broadway to national tours, this character and the performer inhabiting him steal the show.
And that's the way it should be. Mr. Lewis was a bundle of untamed energy and so is Zegree, a regular performer at New York's 54Below and Joe's Pub. The musician basically has his way with the piano, pounding on it with his hands, his feet and his backside. The music drives with gleeful relentlessness, as the musician bounds over the piano, jumping into place in front of a microphone and into someone else's business.
He's exhausting. He's exhilarating. He's, well, Jerry Lee Lewis, the Louisiana bad boy who still gets America rocking to "Great Balls of Fire" and "Whole Lotta Shakin' Goin' On."
Of course, keeping all these big talents in line is Sun Records owner Sam Phillips, the man who became like a father to the four country boys, helping them discover their own uniqueness and setting them on the path to stardom. But tonight, he accepts that ultimate parental truth – before they can fly, you have to let them go. After all, at this point, they range in age from 21 to 24 and are in hot demand by Columbia and RCA.
Holding this dramatic line as Phillips is Jason Loughlin, who made such a smart Elyot Chase last season in Riverside's production of "Private Lives," and who appeared onstage with Helen Mirren as the queen's footman in the Broadway production of "The Audience." Here, Loughlin brings a sympathetic portrayal of Phillips to the stage but also brings out a surprise – a mean harmonica.
Director/choreographer Keith Andrews and lighting designer Yael Lubetzky keep the stage electrified with energy and crisp precision. Derek McLane's scenic design sets the perfect backdrop of a recording studio but slyly interjects a thematic concept with the word "Sun" hovering above (we don't know it it's rising or setting). Molly Walz's costumes are period perfect. And sound designer Craig Beyrooti certainly needs to take a bow as well.
It's a shame the expositional moments don't rise above serviceable and, except for Loughlin and Zegree, challenge the cast. Fortunately librettists Colin Escott and Floyd Mutrux do what they need to do – get out of the way and let us listen to the music.
And that's what this show is about, from beginning to its spectacular ending – American music that opens doors in our memory and shows us how to have fun.
"Million Dollar Quartet" runs through Jan. 21 at Riverside Theatre, 3250 Riverside Drive, Vero Beach. Tickets start at $35. Call 772-231-6990 or visit RiversideTheatre.com.