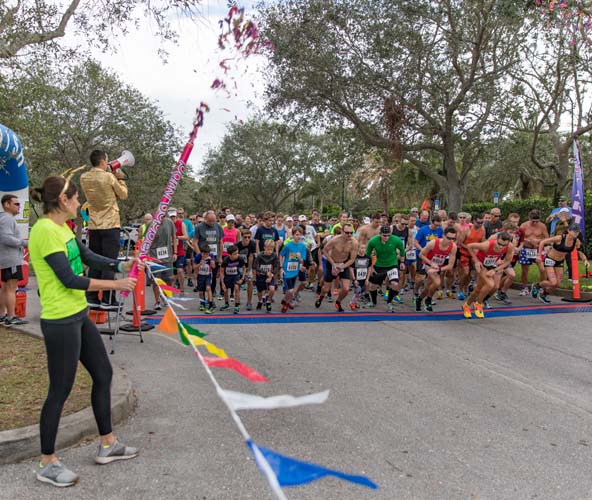 Hundreds gathered at Riverside Park in front of the Vero Beach Museum of Art on New Year's morning to start the year off right at the Runner's Depot Resolution Run 5K to benefit the Education Foundation of Indian River County.
Looking spiffy in his gold sequined jacket, Runner's Depot's Jim Van Veen shared, "My resolution is to have everybody on the Treasure Coast out here to run a race."
He was off to a good start, announcing to participants before a countdown that ended with confetti canisters shot overhead, "More than 460 people pre-registered, which is a new record."
As they helped to set up refreshments before the runners returned, Education Foundation volunteers Donna Palmquist and Deni Gillespie shared their own resolutions.
"My New Year's resolution is to get closer to God every day in every way," said Palmquist.
"My resolution is to teach 64 adult beginners to swim by March through my new Swimmin' Women and Men Indian River County," said Gillespie.
Although both are runners, Mary Lunn and Tony Mehta opted out of this one, but were on hand to cheer on the others and shared their resolutions.
"I have a couple," said Lunn. "I'm actually going to take tap dancing lessons; try something new."
"I want to run another 100-mile race," said Mehta. "Last January I ran the Skydive 100 in Clewiston and did it in under 24 hours."
The Resolution Run drew participants of all ages, including 11-year-old Nuala Hart, who said running the race was her resolution, and her brother Quinn, 13. Despite it being a first 5K for both of them, they each ran impressive times; Nuala at 28:22 and Quinn at 27:40.
"I was shocked; there she goes!" said their grandmother, Randi Walsh, with a laugh. "Delighted but shocked."
The overall winner was Joseph Granberg, who bested his younger brother with a time of 16:50. Jimmy Granberg at 17:16. Top female was Megan Valentine at 19:52.
The race was the fourth in the Runner's Depot 2017-18 Run Vero Race Series, which included the September Twilight 2-Mile, October's Frightening 4K and December's Candy Cane 3K preceding the Christmas Parade on Ocean Drive.
Still to come in the series are the Feb. 10 Cupcake 'Short-N-Sweet' 2-Mile from AW Young Park to benefit the Vero Beach Police Department Foundation, and the March 24 Citrus Classic 5K from Pocahontas Park to benefit Girls on the Run of the Treasure Coast.
For more information visit runnersdepotvb.com.
Photos by: Denise Ritchie
Click HERE to see more or buy photos