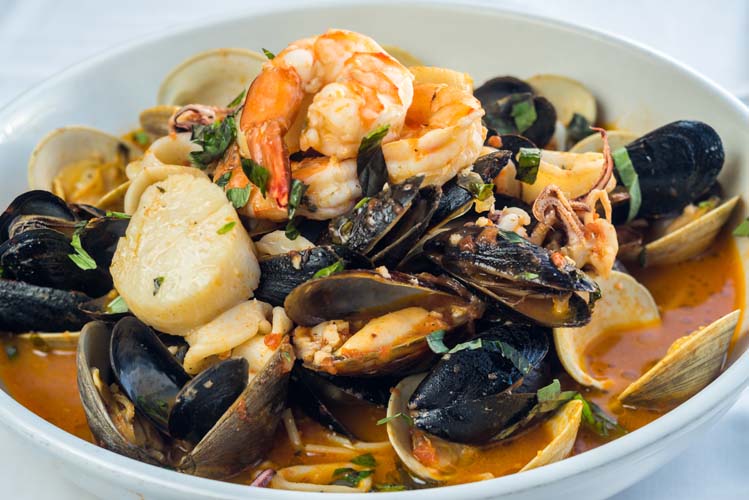 From innovative appetizers to the hands-down best desserts in Vero, no restaurant does it better than the Amalfi Grille.
You know a great culinary experience awaits when you embark on an evening at this white-tablecloth  Italian restaurant on Miracle Mile.
On our most recent visit, proprietor Bob Rose ushered us to a very nice table for five, and veteran server Dana quickly took our drink order.
In addition to some very expensive (and very good) bottles of wine, Amalfi has an excellent selection of modestly priced offerings. On this evening, two members of our party – in a celebratory mood – started  with a split of champagne, while rest of us began with Mer Soleil chardonnay.
For appetizers, we decided to order three to share. Needless to say, one had to be our favorite, the calamaretti Amalfi ($14) – calamari very lightly fried with cannelloni beans and cherry peppers in a lemon and white wine sauce.  A bit on the spicy side, but wonderful.
For the second, we had the grilled Portuguese octopus ($16), a special we hadn't seen here before. The very tender slices of octopus were served on mixed greens, with a Sicilian marinara and pistachio pesto dressing. An excellent dish.
The third was broccoli di rabe ($12), sautéed in garlic and extra virgin olive oil, with a homemade sweet Italian sausage thrown in to enhance the flavor.  Three winners for appetizers.
Next came salads. Two of us shared an arugula salad ($9); two shared the beet salad ($12), a beautiful combination of oven roasted gold and red beets with arugula, tomatoes, almonds and gorgonzola; and my husband enjoyed a classic Caesar with anchovies.
Then for entrées, I went for one of my favorites, a very flavorful zuppa di pesce ($36) in a fra diavola sauce; my husband decided to try the limoncello salmon special ($30); one of our companions opted for the lemon sole picatta ($26); another chose the pollo carciofo ($21), chicken scaloppine with penne pasta; and the third picked the ravioli arogosta ($26), lobster ravioli and sautéed shrimp in a vodka cream sauce.
The sole and the salmon were both beautiful pieces of fish, perfectly cooked, and the limoncello imparted an unusual, sweet citrus taste to the delicious salmon, leaving it bursting with flavor.
Finally, it came time for dessert.  We were anxious to see what Chef Dan, who invents the amazing pastries served at the Amalfi, was featuring this time.
On this evening, it turned out to be a homemade fruit cake soaked with the brandies and cognacs, and topped with a warm English custard. One of Dan's best creations yet, but alas, we are told it will not be served again until the next holiday season. Oh well, something to look forward to.
Dinner for two with a couple of glasses of wine can run anywhere from $100 to $180 before tip. With a great bottle of wine, it can come to considerably more.
But the Amalfi Grille, currently open seven nights a week, has put together that winning combination of great food expertly prepared, fabulous service and a proprietor who cares.
When the evening starts great, and then just keeps getting better, it is difficult to wish for more.
I welcome your comments, and encourage you to send feedback to me at tina@verobeach32963.com.
The reviewer dines anonymously at restaurants at the expense of Vero Beach 32963.  
Amalfi Grille
Hours: Dinner nightly from 5 pm to closing
Beverages: Full bar
Address: 398 21st Street, Vero Beach
Photos by: Denise Ritchie
Click HERE to see more or buy photos