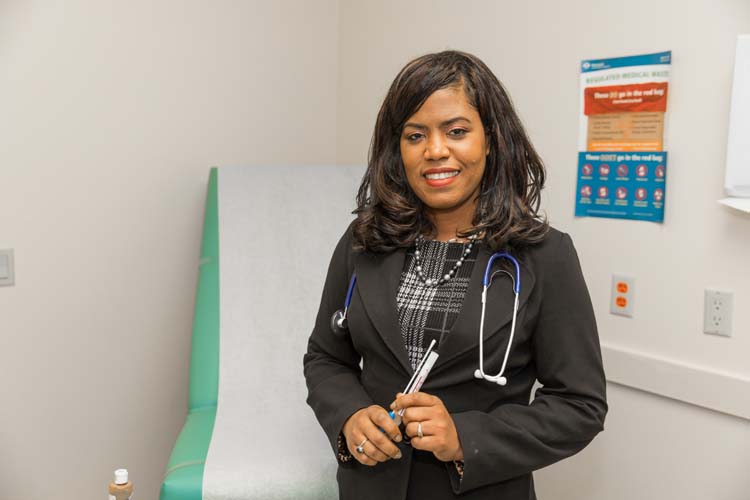 This year's flu vaccine leaves a lot to be desired, according to Sebastian infectious disease specialist Dr. Aisha Thomas-St. Cyr and the New England Journal of Medicine.
In a December 2017 article, the Journal reports "mounting concern" over the effectiveness of the current vaccine against what's expected to be the most common – and virulent – flu strain this year, the H3N2 virus.
That's because the 2017-18 American flu vaccine is the same as the vaccine used in Australia last year and that vaccine, says the New England Journal, was only 10 percent effective in preventing that H3N2 strain of flu.
Despite such a scary statistic, St. Cyr is quick to insist that – regardless of what happened Down Under last year – everyone who hasn't already gotten a flu shot should get off their holiday haunches and get one now.
Even if the shot doesn't keep you from getting the flu, says St. Cyr, if you've had the vaccine, you'll likely get a "significantly milder case" than those who don't get the shot.
She repeats the common advice that vaccination is especially important for seniors, pregnant women and children.
"People over 65 are at higher risk, as are children under two," she says. "Their immune systems are weaker."
Pausing briefly, she adds, "The people who die [from influenza] tend not to be vaccinated. So how about we not die?"
That's not a flippant remark. CNN reports that upwards of 36,000 Americans die each year from the flu and the many complications it can bring, and St. Cyr minces no words about what might happen if people fail to get vaccinated.
"I will predict that we'll have some pretty sick patients in the hospital with influenza," St. Cyr says. "I'll predict a pretty bad season, based on what happened in Australia. There will definitely be more cases, more people hospitalized and more deaths."
On a somewhat brighter note, St, Cyr does point out that current flu vaccines protect against and help control and reduce the symptoms of more than just one strain of influenza.
The Centers for Disease Control says the "trivalent" vaccines available this year are aimed at the H3N2 or Hong Kong A virus, as well as what's known as the Michigan A-H1A1 and the B-Victoria lineage virus.
Quadrivalent vaccines for 2017-18 also boost immunity to the B-Yamagata lineage virus and, according to St. Cyr, the vaccine you're likely to get at your local Publix or Walgreen's will probably be the quadrivalent one. If you have Medicare, these vaccines are free of charge.
With the Treasure Coast's busy social season just gearing up, getting the flu vaccine ought to be at the top of everyone's "must do" list. And, since flu viruses tend to spread most readily through contact and proximity, more than a little caution is in order this year.
If, for example, you're at a party and, as St. Cyr puts it, "you see somebody sniffling and sneezing across the room, I would probably say 'Hey, maybe I shouldn't give them a hug or a handshake this time.' And I would also say to people who are sick, 'please rest up at home and don't spread it.'"
If you are "immune-suppressed," St Cyr says you should consider wearing a surgical-type mask if you must go out in public areas.
Is that carrying things a bit too far? Not according to Sebastian River Medical Center.
For the first time ever, SRMC has mandated that everyone who works at the hospital who does not get vaccinated must wear a mask while on duty to help prevent spreading the various flu viruses to others.
Though often confused with the common cold, influenza is much more serious. It can – and does – kill.
As St. Cyr puts it, "Influenza tends to set off an inflammatory cascade, a surge reaction which is systemic in inflammatory response syndrome." Or, put more simply, she says, "People can get strokes and heart attacks and things like that" all for the want of a quick prick in the arm.
While she hopes her predictions don't come true, she also hopes those who haven't yet gotten a flu shot will get the "point" of her message as soon as possible.
Dr. Aisha Thomas-St. Cyr's Sebastian ID Care offices are directly south of Steward Health's Sebastian River Medical Center at 7955 Bay Street, Suite 2. The phone number is 772-388-9155.