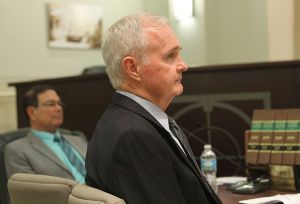 Joe Griffin, Sebastian's city manager, will resign in a few months to focus on family and other interests, according to his resignation letter.
"This is the right time," said Griffin, 72. "I want to concentrate on my family. Our daughter and her husband just had a baby."
Griffin expressed gratitude and humility in the letter. He will present the letter to City Council on Wednesday.
"The City Manager position has given me the great opportunity to work with dedicated and motivated individuals – our city employees," Griffin said. "I greatly appreciate the support I have received from Council, our employees and Sebastian's citizens."
The letter states that May 9, 2018, will be Griffin's official last day. This will give Griffin and city officials time to complete and oversee certain projects, select a new city manager and provide a smooth transition.
Griffin said he won't be looking for another job and that the resignation is a retirement for him. He initially informed the council of his desire to resign last spring.
Griffin was initially hired in 2006 as the director of the Sebastian Municipal Airport. He said he also served as a community development director and was hired as city manager four years ago.
This story will be updated.