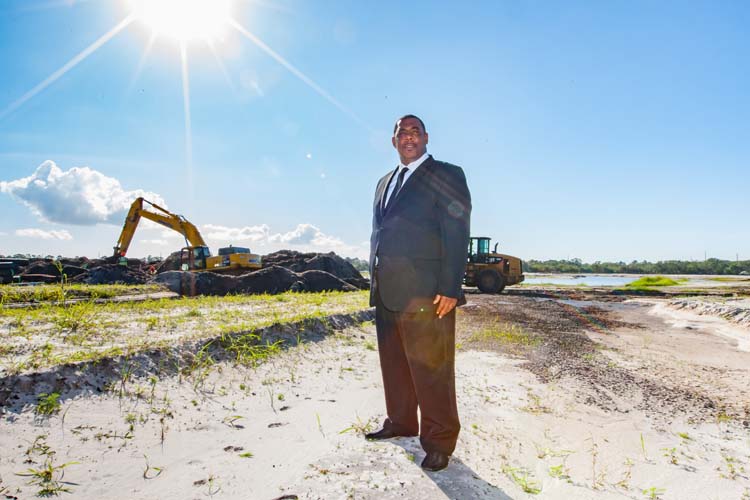 The pace of new home construction in Indian River County has increased nearly four-fold since 2009, the local low during the Great Recession. There were 249 building permits for single-family homes issued that year, compared to 933 in 2017.
But before new homes go up, suitable land must be found, and that's where Hampton Jackson comes in.
"I get new homes built," said Jackson, a Realtor with Coldwell Banker Commercial Paradise.
Though he is a relative newcomer to development deals, specializing in land sales for just the past three years, his claim is backed up by a string of impressive sales in 2017.
Jackson's success is due in large part to his focus. When he began looking for land to list and sell, he quickly realized locating "scattered lots" took as much time as finding larger parcels, and that selling substantial acreage to well-capitalized national homebuilders was a better business strategy than doing one-off, scattershot deals.
He came to the business of brokering subdivision property in Indian River County with an edge. "I know the land. I was born and raised here," Jackson said. "I know every piece of land that's available in our marketplace."
His biggest sale was in July when he sold 132 acres to DR Horton for $4 million, land on which the builder recently started site work for Falcon Trace South, a 258-home development.
In November, Jackson sold DR Horton another 9.63 acres, consisting of 22 fully-developed lots, for $1.1 million. Located north of 61st Street and west of 58th Avenue, the new single-family-home subdivision will be called The Enclave and will have sidewalks and underground utilities.
Also in November, he sold 19 finished lots in a 60-lot subdivision known as The Lakes at Sandridge for nearly $530,000, again to DR Horton. The development is located east of 58th Avenue and north of 81st Street. New homes are expected to sell for about $275,000.
In December, Jackson sold 20 acres located south of 73rd Street and east of U.S. Highway 1 to JHL Partners for $1.3 million. JHL Partners will finish the lots, grading them and installing infrastructure, and then sell them to a homebuilder, according to Jackson. The 45-home subdivision will be called Orchid Landing at Warren's Way.
"I wanted to work smarter, so I sought out an unexploited market," said Jackson, who claims that specializing in large tracks of land for residential development "is unusual in this area."
"Most of the tools I use are government provided, as opposed to MLS listings," Jackson said. "I'm on my laptop looking at an aerial view of land that's zoned residential. I usually know who the buyer will be – I know the profiles of national home builders.
"Some of them buy raw land while others prefer land already developed with infrastructure," Jackson said. "Some of them buy both ways. All of them prefer county water, sewer and FP&L electricity."
In the past three years Jackson has sold mostly developed lots – with sewer, electric and other infrastructure installed but no houses built – that were abandoned after the 2008 economic downturn. "Most of those lots are gone now," he said. "Only the raw land is left." His strategy now is to sell empty fields to raw-land buyers and then resell the value-added property to "finished lot" buyers.
He views the current crop of developer-buyers as "survivors," of the Great Recession. "They are fully entrenched in the development business," he said.
The sellers are hedge funds and "multimillionaires, who wanted to invest their money in land and now want to sell," Jackson said. "They like to do things discretely."
Unlike home sales, land sales "are few and far between," Jackson said. "I'm prepared for the long haul. Some deals take a year to come to fruition," which further separates him from the pack.
"I like the fact that I'm at the beginning of a process that puts people to work," Jackson said. "Falcon Trace South is moving dirt as we speak, paying people to put in water, sewer, electric, cut roads, put curbs in and then build 258 homes. It's making people's lives better."