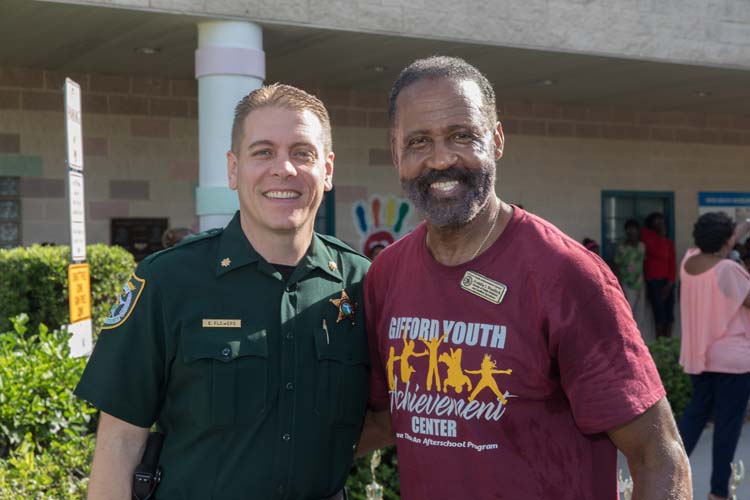 At age 50, embarking this week on his 29th year in law enforcement and his 10th as Indian River County's top cop, Sheriff Deryl Loar hasn't yet decided whether he will seek re-election in 2020.
"I'll make that decision sometime this year," Loar was saying last week as he recovered from a nasty bout with the flu. "I really don't know right now."
He does know, however, who he'd like to see as his successor – if not in three years, then seven:  Eric Flowers.
In fact, Loar has been grooming Flowers for the job, putting the 1998 Sebastian River High School graduate in high-profile positions to increase his visibility and name recognition in the community, and promoting him three times in the past six years.
"He would be my choice today," Loar said.
That became obvious last March, when Flowers was promoted from lieutenant to major, skipping past the rank of captain. The promotion came only one year after Loar bumped him from sergeant to lieutenant.
The promotion to major – he's one of only three serving under Loar and Undersheriff Jim Harpring – put Flowers atop the Sheriff's Office's Bureau of Administration.
That means he's in charge of several departments, including human resources, information technology, records, school resource officers, public affairs (and media relations), fleet (vehicles), courthouse (bailiffs) and general administration/facilities.
Or as Loar put it: "He's responsible for the nuts and bolts of the operation."
And as Loar explained: "That was by design."
So was Loar's decision five years ago to make Flowers his public affairs deputy and public information officer, which made him the face of the Sheriff's Office in the community and the voice of the agency in the news media.
Just so you know, though, Loar didn't wake up one morning and arbitrarily decide Flowers might make a good sheriff someday. Flowers, who turns 38 next month, earned his stripes – then his bars, then his clusters.
He joined the Sheriff's Office in 2003 and has served in various capacities: uniform patrol, field training, criminal investigations and multi-agency criminal enforcement unit, as well as in public affairs and media relations.
He has earned a bachelor's degree in business administration from Stetson University and a master's degree in criminal justice from the University of Central Florida, where he expects to complete work on a doctorate in public affairs later this year.
Last month, he became only the 11th representative of the Sheriff's Office to graduate from the prestigious FBI National Academy, a rigorous 10-week training program for law enforcement officers across America.
"It is absolutely the pinnacle of law-enforcement training," Flowers said of the Quantico, Va.-based academy, which offers intense, state-of-the-art education and training in advanced communications, leadership, cybercrime and fitness for carefully selected law enforcement officers.
"To go through the program and interact with 220 law enforcement officers from across the country," he added, "it was an amazing experience."
It also enhances his credentials for a future campaign for sheriff – something Loar considered when he selected Flowers for the program.
"Eric is preparing himself," Loar said. "He might not be ready yet, but he will be."
That's the plan, anyway.
Flowers wants to be this county's 11th sheriff. He said he would never challenge Loar, but he loves local law enforcement, is "100-percent committed" to this community and does plan to run when his boss retires.
"To anyone who knows me, that's not really a secret," Flowers said. "Being the sheriff here is something I aspire to, and I would be honored to be entrusted with that responsibility. But it's not something I'm actively pursuing. It's not something I have to do right now.
"I've got 15 years in, but I'm still a young man, so there's no rush," he added. "I've spoken to the sheriff and he's certainly aware of my aspirations, but he also knows I fully support him and that I won't run against him if he decides to run again.
"Someday, though, he's going to retire."
And when that happens, Flowers will be ready – just as he has been ready for all the other opportunities Loar has given him over the past nine years.
But will he be elected?
Surely, Flowers won't be the lone candidate to replace Loar, whenever he decides he has had enough. Challengers will emerge, perhaps even from within the Sheriff's Office.
Loar said there are several other potential candidates currently in his ranks, naming Capt. Milo Thornton and Sgt. Ross Partee as two who might run for sheriff – if not immediately after he announces his retirement, at some time in the future.
"I've got about a dozen of those-type kids, and some of them are rock stars," Loar said proudly. "I've got some young guys with 10 or 15 years of service that are all blue-chippers."
Yet Flowers, who said the 9/11 terrorist attacks convinced him to become a law enforcement officer because "the fight is on the ground here," remains Loar's No. 1 pick.
"I want to be confident the legacy continues, and Eric is a wholesome, sharp, solid young man," Loar said. "Yeah, he's risen through the ranks pretty quickly, especially the past couple of years, but he has earned those promotions.
"He has certainly prepared himself and positioned himself well."
That, too, was by design.