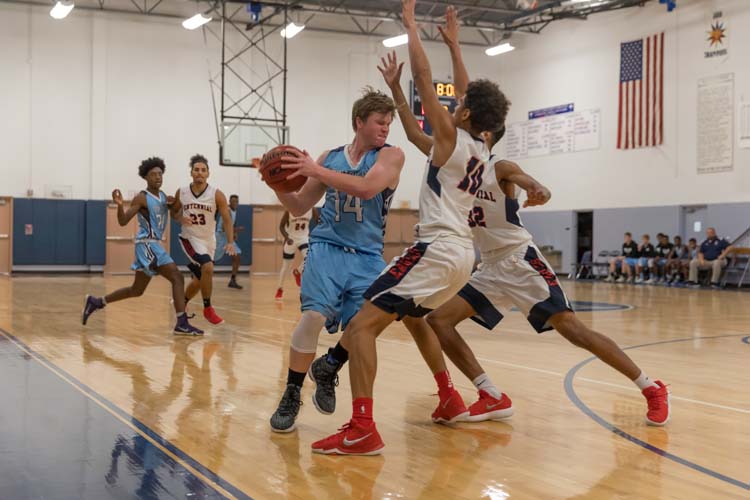 Cincinnati Country Day School captured the championship of St. Ed's second annual D5 Alive Holiday Tournament this past Saturday night by holding Port St. Lucie to eight second-half points in a 48-35 win. The title showcase featured the survivors of an eight-team field and concluded an entertaining three-day event. Fans were served up fast-paced, frenetic basketball throughout and some of the players were probably nursing floor burns into the New Year.
The hosts defeated Community Christian, 59-47, in the opening round. The Pirates couldn't keep up with Port St. Lucie in round two and were dispatched to consolation status following a 63-27 defeat. Centennial claimed third place by easing past St. Ed's, 52-35.
"This was a great event," Pirates head coach Greg Zugrave said. "We couldn't be more excited that the D5 Alive Foundation is able to raise awareness about the rare form of kidney cancer that took the life of (St. Ed's graduate) Darell Flowers. This gives us a great opportunity and venue to do that. It's a great experience for the whole community.
"We had some talented teams in here. Having a team come down from Ohio added a lot of enthusiasm and excitement to the tournament. We try to bring in schools from outside the area and had a nice balance from the immediate area and across the state. The tournament was competitive and we saw a high level of play."
By running the table, the talented victors returned to Ohio with a record of 8-1. Back home after a nearly 2,000-mile round-trip trek from the Queen City, the reminiscences about the visit to Florida will not only be about winning basketball games. The timing of the journey couldn't have been better as an arctic deep freeze engulfed the northern tier of states.
"I saw the tournament listed on the FHSAA website and we try to give our team an experience somewhere nice with warm weather about every two years," CCDS head coach Greg Ross told us. "We played in a holiday tournament at St. Edward's in 2004 and really enjoyed it down here.
"We brought down 11 varsity players and a lot of these guys were just happy to see palm trees. The kids were also excited about the ocean. Greg (Zugrave) set us up with a boat ride on the Indian River where we hoped to see manatees and dolphins (no report on success). So we did different things, but mostly we really enjoyed the nice warm Florida sun."
That warm sun disappeared after a day or two and gave way to chilly, overcast conditions. Still, the stark contrast to what was going on up north was thoroughly baked in. Two CCDS players were nevertheless undeterred about the cooldown and decided to heat things up on the hardwood.
Senior co-captains Trey Smith and Blake Adkins came to town with 20-plus point-per-game scoring averages. They were both over 20 in a 60-56 semifinal win over scrappy Centennial.
"It was a long car ride, but this was the chance of a lifetime," Smith said. "I woke up on Christmas morning and it was 6 degrees with 2 inches of snow outside. Stepping out of the car here it was 80 degrees. Not having to wear anything on your legs and arms was awesome.
"Basketball has been a great ride and this is my best year ever. To be able to bond with your teammates on a trip like this is just such a fun thing to do. I'm glad we got to do it for such a great cause."
Smith lauded his teammate Blake Adkins as "a ridiculous player, a ridiculous athlete, and one of the best I've seen." Adkins is destined to play basketball in college. Smith has college baseball in his future. On the court Smith reminded observers of Larry Bird, a scorer ready to do any required dirty work. Adkins is a silky smooth swingman with a nice floater from the outside.
"This has been a great opportunity for team bonding and of course supporting the D5 Alive tournament," said Adkins. "When I heard it was about 10 degrees in Ohio, I thought, wow, I can roll down the windows here. It's just amazing. I love it down here. We had fun and it was for a great cause.  I'm glad we came here and this trip will also make us a better team."
Smith had 21 and Adkins contributed 16 more in the finale. The CCDS Indians appeared to enjoy what they witnessed off the court as well as what they accomplished on it.