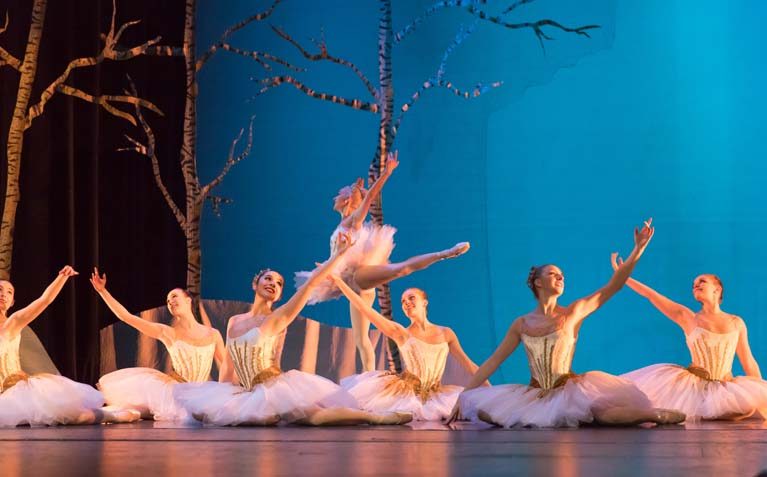 The first snow of the season fell at the Vero Beach High School Performing Arts Center last Wednesday evening when premiere benefactors were treated to a sneak peek performance of Ballet Vero Beach's "Nutcracker on the Indian River." Ballet Vero Beach celebrated its fifth anniversary season with the world premiere of the original production Dec. 29-30.
The audience was mesmerized by the flurry of dancing snowflakes as Clara and the Prince made their way through the Land of Snow before manatees and sandhill cranes made their debut during Act II as the family visited the Indian River Lagoon in Vero Beach for the holidays.After guests enjoyed an exclusive preview of the Snow Scene at the end of Act 1, they chatted with members of the entire ballet company. Intrigued by the local take on the storyline, questions were asked about the designs for the unusual costumes and the spectacular set. One lucky little one even tried on Clara's crown.
Thanking donors for their patronage, Adam Schnell, Ballet Vero's Artistic Director/CEO said, "I am extremely proud of this production. This is a big 'thank you' for your support. We would not be here without you."
He encouraged everyone to get to know the dancers, adding, "The problem with anything on the proscenium stage is there's a wall between us and you. We have worked very hard at Ballet Vero Beach to break down that wall. That's why I do pre-curtain speeches and talk-backs. The personal connection is one of the hallmarks of my mission for this company."
Schnell, who came up with the idea for the Vero version of the traditional ballet while working on a graduate assignment in arts administration, said he became enamored with the ballet when as a child he was cast as Clara's bratty little brother.
"The magic of it all blew my mind and took things to the next level for me," he said.
That's why it was so important for him to include young people in the production. Of the 50 youngsters in the performance, 24 were recruited from local nonprofits.
"To reach beyond, we needed to catch those kids that need positive adult role models and experience audience applause," said Schnell.
Ballet Vero Beach presents the celebrated works of Ballet Master and Principal Dancer Camilo Rodriguez on Jan. 19-20. For more information, including the 2017/2018 season schedule, visit balletverobeach.org.     
Photos by: Denise Ritchie
Click HERE to see more or buy photos