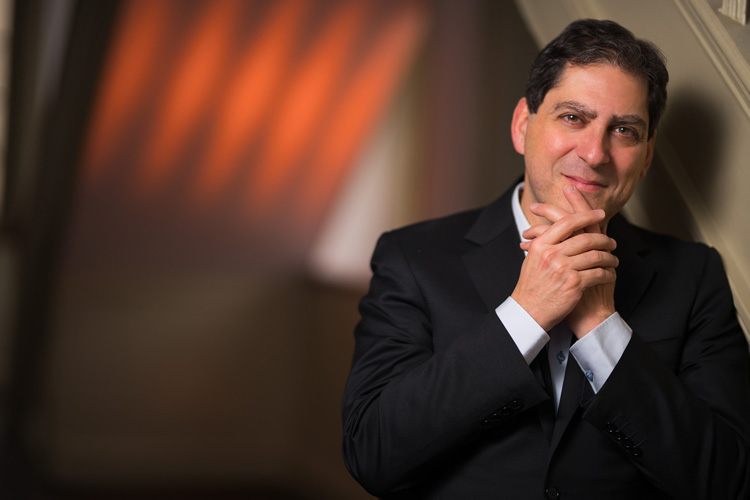 Good things often come in smaller packages – think diamond rings and the keys to a new Mercedes.
Or, when it comes to orchestras, the Atlantic Classical Orchestra certainly fits the bill.
While large 100-member symphonic orchestras, replete with dozens upon dozens of strings, woodwinds, brass and percussion instruments may be better equipped to turn out the drama of Tchaikovsky or Brahms, a more nimble and nuanced chamber orchestra is better able to send you into Beethoven heaven.
Audiences experience a higher degree of "intimacy and energy" from a smaller, "leaner" orchestra, says Maestro David Amado, music director of the 45-member ACO.
"It's like driving a sports car," he says. "There's more maneuverability."
And speaking of maneuverability, audiences will now have to get used to the fact that the Atlantic Classical Orchestra's Vero Beach performances are making the move this season from the Waxlax Center for the Performing Arts at St. Edward's School to the Community Church of Vero Beach. The move was necessary to enable the orchestra to grow its programming, which in turn, requires more stage space, says ACO general manager Cindy Roden.
It will also give them the opportunity to present grand works on the piano or bring in choirs for requiems.
Amado says this coming season "has turned out absolutely beautifully (with) a wonderful breadth to it."
You can hear that scope when the Atlantic Classical Orchestra begins its 29th season this January. Each Masterworks Series concert has four performances: 7:30 p.m. at the Community Church of Vero Beach, 7:30 p.m. at the Eissey Campus Theatre at Palm Beach Stage College, and at 4 p.m. and 8 p.m. at the Lyric Theatre in Stuart.
"Romance & Revolution: Masterworks I," a big concert designed to electrify and delight, will be performed Jan. 15 to 18.
The concert begins with "Dark Mountains," a 2011 composition by Robert Paterson, which tells a story of a nighttime drive through the mountains of Vermont. Then, French pianist Philippe Bianconi will perform the Edvard Grieg Piano Concerto.
Finally, the orchestra will perform Ludwig van Beethoven's Symphony No. 3, "Eroica." Amado says this "seminal and amazing piece" broke the mold for classical music and paved the way for Beethoven to create his most well-known work, the Fifth Symphony.
"Love's Blossom: Masterworks II" will be performed Feb. 12 to 15. The program begins with Aaron Copland's majestic "Appalachian Spring Suite." Amado is especially excited to be performing the Copland with a 13-piece orchestra.
"That makes me super happy," he says. "The piece is so fragile … The aesthetic comes from what you can do with 13 instruments."
That piece is followed, with full orchestra, by the Jean Sibelius Violin Concerto with soloist Tessa Lark, who Amado describes as "amazing, amazing," and it ends with the Schumann Symphony No. 1.
"Reflections & Impressions: Masterworks III" will be performed March 13 to 15. It includes Gioachino Rossini's "Overture to L'Italiana in Algeri," Manuel de Falla's "El amor brujo: Ballet Suite," which Amado says has plenty of "smoldering Iberian energy," and Georges Bizet's Symphony in C.
That concert features Flamenco dancer Eva Conti, who is also a French horn player, and mezzo-soprano Tara Curtis.
"Strength & Providence: Masterworks IV" will be performed April 2 to 5 and features Maurice Ravel's "Le Tombeau de Couperin," Dmitri Shostakovich's Cello Concerto No. 1 with soloist Julian Schwarz, and ends with Felix Mendelssohn's Symphony No. 5 "Reformation."
Community Church of Vero Beach is located at 1901 23rd Street, Vero Beach. The Eissey Campus Theatre at Palm Beach State College is at 11051 Campus Dr., Palm Beach Gardens. The Lyric Theatre is at 59 SW Flagler Ave., Stuart.
Masterworks single tickets range from $30 to $60 at the Community Church and the Eissey Campus Theatre; and are $40 to $65 at the Lyric Theatre. Subscription tickets are $90 to $200 at the Community Church and the Eissey Campus Theatre, and are $120 to $220 at the Lyric Theatre.
For more information, call 772-460-0850 or visit AtlanticClassicalOrchestra.com.