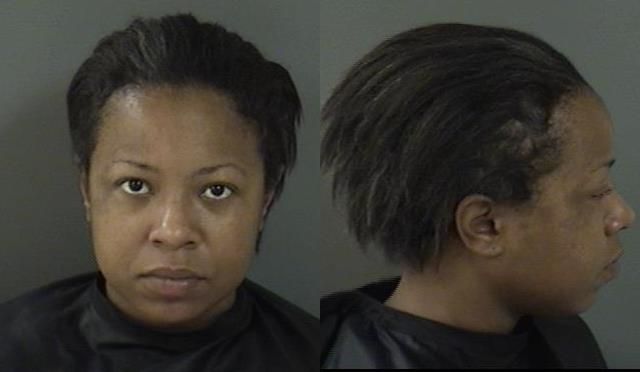 INDIAN RIVER COUNTY — An intoxicated woman who was recently arrested on charges of stabbing her boyfriend is accused of charging at two deputies with a knife on New Years Eve, officials said.
Tracy Jones, 36, of the 400 block of 10th Place Southwest, was charged with aggravated assault on a law enforcement officer, disorderly intoxication and aggravated battery. She is being held at the Indian River County Jail without bond.
Deputies about 10 p.m. Sunday went to the 400 block of 10th Place Southwest in response to a disturbance. Upon arrival, deputies saw Jones acting erratically.
Deputies were talking with neighbors when Jones began shouting and cursing in the street. A neighbor had told deputies that Jones was arrested a few days before for stabbing her boyfriend.
Jones had overheard the conversation and told the neighbor, "You're next," an arrest report states.
When deputies approached Jones, she went back to her home.
Deputies knocked on the door and told Jones to come outside. Then, Jones opened the door and began to charge at the deputies while holding a knife in her hand, deputies said.
Both deputies ran off the porch, told Jones to drop the knife, and she eventually complied, deputies said.
Deputies later learned that Jones was arrested Dec. 27 for stabbing her live-in boyfriend in the arm after the two got into a heated argument. The boyfriend crawled out of a bathroom window and ran to a neighbor's home to call for help.
Jones was charged with aggravated battery for the previous incident and had posted $25,000 bail from the county jail on Dec. 28, jail records show. She is awaiting trial for both incidents.
"Domestic violence continues to permeate all socioeconomic levels of our society. It is the silent killer behind closed doors," Sheriff Deryl Loar said. "Fortunately, our deputies were able to disarm Jones before she could hurt anyone else this evening."
The Sheriff's Office partners with SafeSpace, the only certified domestic violence and outreach available on the Treasure Coast. For more information on SafeSpace, visit the agency's website.