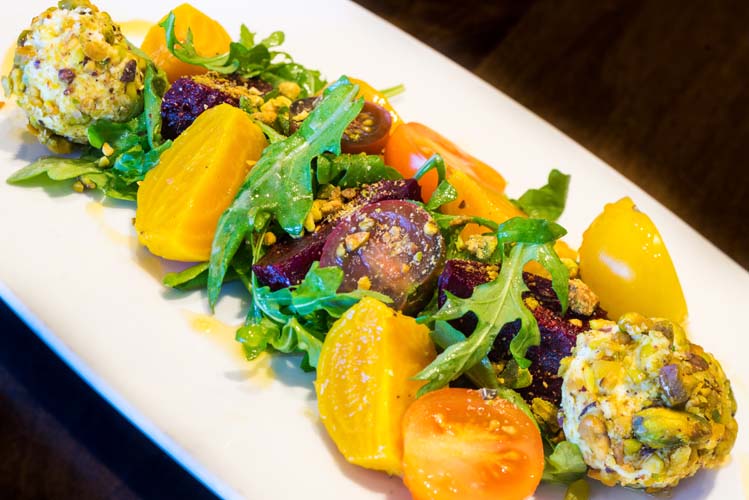 Just in time for the season, Costa d'Este has unveiled a new menu for The Wave Kitchen & Bar – and it may be the best mix yet of American, Cuban and Latin dishes for Gloria Estefan's attractive hotel on Vero's beach.
On our most recent visit, our party of three started by sharing two plates of The Wave's plantain cups. On one plate, three of these crispy little cups made from fried plantains were stuffed with ropa vieja – the tasty shredded beef that is one of the national dishes of Cuba. On the other, the bite-sized plantain cups were filled with baby shrimp. Both were accompanied by a tasty Creole sauce.
Then for salads, I ordered the avocado salad ($15), my husband chose the roasted baby red and golden beets ($14), and our companion went for a classic Caesar ($13).
My salad – a stack of avocado mixed with tomato, red onion, cucumber and a cilantro-lime vinaigrette – was a simple dish that showcased the avocados, and the vinaigrette gave it a bright taste. My husband's salad was a thing of beauty, with the sliced beets set among arugula, heirloom tomatoes and balls of pistachio-crusted goat cheese, all dressed with a walnut vinaigrette.
One of the things I most like about The Wave is it has something for every member of your party. On this evening, I was thinking seafood, and there were four different local fish to choose from. I was tempted by the tripletail – a delicious fish that you don't see on menus too often – but finally opted for the redfish.
My husband was craving steak, and from five choices, he decided to go with the dry-aged New York strip ($40). Our companion was thinking Cuban, and she chose the pollo a la plancha – pan-seared herb marinated chicken breast ($21) from the Estefan Kitchen menu.
The entrées turned out to be exactly what each of us was looking for. My redfish, perfectly cooked, could not have been fresher, and was served over a very interesting beet-infused risotto with pickled beets on the side.
My husband's steak was brought to the table sizzling on a red-hot stone, and was accompanied at his request by yucca fries as a substitute for mashed potatoes. A bit of American-Cuban mix-and-match. And our companion's flavorful Cuban chicken was served with delicious black beans, white rice and plantains.
On a previous visit, we sampled one of The Wave's new appetizers – the New Orleans-style barbeque shrimp ($15). This dish consisted of seven lovely shrimp, prepared with amber beer, Worcestershire, lemon and rosemary, and accompanied by a biscuit. These were so good that I claimed four of the seven.
On that evening, for entrées I ordered the seafood linguine ($35) and my husband chose the Cuban roasted pork ($21).
My squid-ink linguine was topped with clams, mussels, shrimp, white fish, calamari and Spanish chorizo, in a saffron tomato broth. The squid ink added salty notes to dramatic, jet-black Venetian pasta. While the chorizo took a bit away from the ocean-y taste, this was an excellent dish.
The Cuban roasted pork – aka lechon asado – was a massive helping of shredded roasted pork topped with grilled onions, and served again with those tasty black beans and rice. The pork was very flavorful.
For dessert, we shared a dish of smooth mocha chocolate. Yummy.
I would also be remiss if I did not mention the paella at Costa d'Este – a staple of this restaurant, and a favorite of mine, since it opened nine years ago. There are many kinds of paella, and the versions currently being featured at The Wave are the creation of the current executive chef, Honduran-born Armando Galeas. Suffice it to say it is the best around.
With fresh seafood, excellent steaks, interesting Cuban dishes and the best paella in town, The Wave is one of our favorite island restaurants.
I welcome your comments, and encourage you to send feedback to me at tina@verobeach32963.com.
The reviewer dines anonymously at restaurants at the expense of Vero Beach 32963.  
The Wave at Costa d'Este
Hours: 5:30 pm to 10 pm nightly
Beverages: Full Bar
Address: 3244 Ocean Drive, Vero Beach
Phone: 772-410-0100
Photos by: Gordon Radford
Click HERE to see more or buy photos