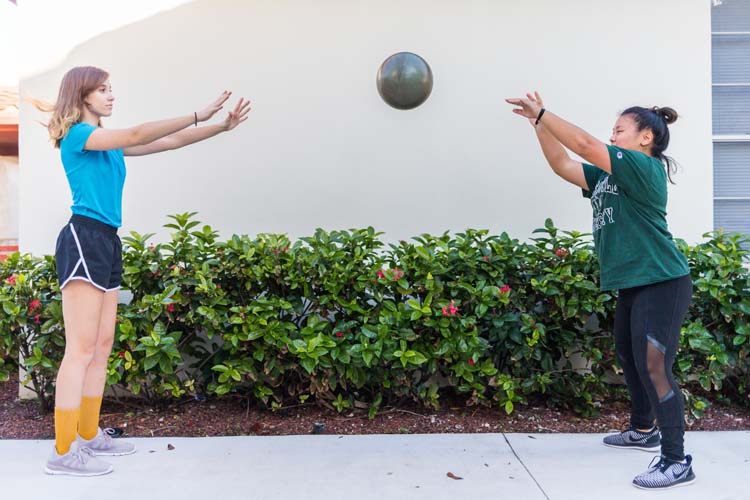 Two girls from St. Edward's will proudly carry the banner for the Pirates into the district weightlifting tournament Jan. 12 at Port St. Lucie High School.
Freshman Ruby Sundell qualified in the 101-pound weight class and senior Alie Miller is entered at 169. Sundell and Miller were among the top eight lifters by weight class during the regular season. For Sundell, this was quite a feat in her first year on the team. By comparison Miller, the lone senior this year, is an established veteran in her second competitive season.
Head coach Les Rogers had an eight-member team to work with for a quick five-meet regular season that concluded with the Vero Beach High Invitational Dec. 16. Rachel Thorpe, Fiona Zimmerman and Miller are back from last year. They were joined by newcomers Gabriella Carlson, Sinclaire DuPree, Sandy Kelso, Jade Nunez and Sundell.
"I'm putting in some hard work and it's paying off really well," Miller told us. "Every time I think it's getting easier, the harder it gets, especially at practice. Districts are around the corner and my goal is to lift 125 for the bench and 125 for the clean & jerk. The 250 total was my best from last year – I've still got a little ways to go.
"I've got some time to do that. I'm going to put in some work over the holiday break, harder than I usually do. Hopefully I will make it."
Getting Miller into the weight room was a hard sell for Rogers. Under his artful guidance some girls will come out to pump iron as cross training for a primary sport. Others chance to stop by once they know the sport is available. The numbers are never large as the season coincides with soccer and basketball.
"I let the girls know that we have a team and I explain to them what we do," Rogers said. "If they're doing a fall or spring sport, I tell them they ought to give weightlifting a shot in the winter. If they are not doing another sport I tell them that here's a sport we offer. You might be pretty good at it and you might enjoy it. Sometimes they come in, sometimes they don't.
"I had been telling Alie about weightlifting since she was in eighth grade. It took her three years to finally realize that she might want to do it. She came out last year and wound up being pretty darn good. I wish she would have listened to me more closely because she's doing really well right now."
It seems that weightlifting offers more than the obvious opportunity to build strength and confidence. Joining the team helps some of these girls socially as well as physically.
"In the past I tried so many sports and none of them worked for me," Thorpe explained. "Last year Alie convinced me to come to practice and I really liked it. Weightlifting is very casual. I can go at my own pace rather than trying to go above and beyond."
Rogers couldn't be more pleased with this group.
"Everybody is enthusiastic. I've got one of my best attendance rates ever. The girls are fulfilling their responsibilities in the weight room, making good gains, and improving with their technique.