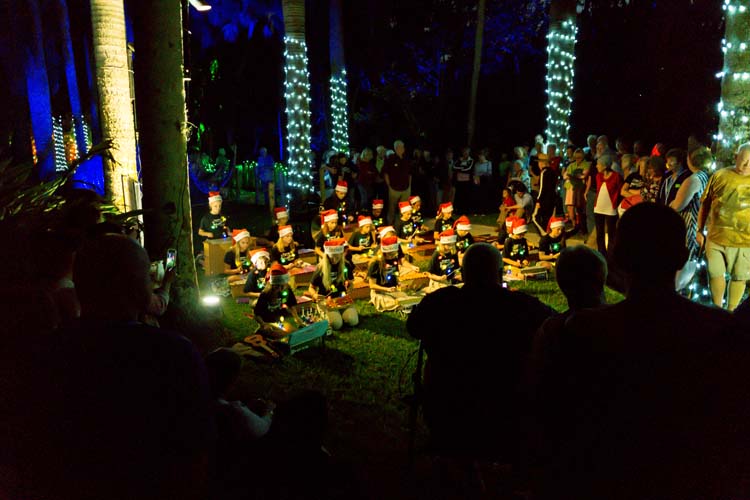 Thousands of glimmering lights set McKee Botanical Garden aglow last Wednesday evening during the annual Holidays at McKee members-only preview, giving them a sneak peek at the festively decorated 18-acre enclave, where lights continued to sparkle through last Saturday.
"We are so excited about this year's Holidays at McKee and Nights of Lights Celebration. In addition to our traditional favorites we have added enhanced, professional LED lighting, which showcases the true beauty of the Garden in a whole new light," said McKee's executive director, Christine Hobart.
Instead of just frolicking among the bamboo, an embarrassment of pandas stepped up their game this year, taking to the water and paddling upstream in a kayak, diving into the pond and zip-lining through the treetops. Other lighted creatures could be seen along the lumen-lit pathways, including snowmen, flamingoes, koi and alligators.
After strolling through the garden, visitors listened to the 1924 Wurlitzer vintage band organ, watched the model train chugging down the tri-level tracks, and took photos with Santa and Mrs. Claus.
Suzan Phillips, who played at McKee as a child and was instrumental in the garden's preservation, watched as children mesmerized by the train display pointed out various buildings and animals to their parents. "I've been here every year since the beginning," she said. "It's part of the spirit of what we wanted to create here so long ago. Something parents and kids can do together."
In the Royal Palm Grove, the Imagine School at South Vero Tangerines set the mood playing holiday songs on their xylophones. And a Christmas miracle brought snow to town, with flurries falling near the Hall of Giants, while indoors guests peered over the holiday village display.
"We love hosting these annual events each year, as it welcomes in the holidays for those who come from near and far and affords us the opportunity to make the holidays brighter for all of those who attend," said Hobart.
If you missed Holidays at McKee, you have another chance to enjoy the "nightlife" in the garden, including the lights, vintage organ and model railroad display at Nights of Lights from Dec. 28-30.
Photos by: Gordon Radford
Click HERE to see more or buy photos