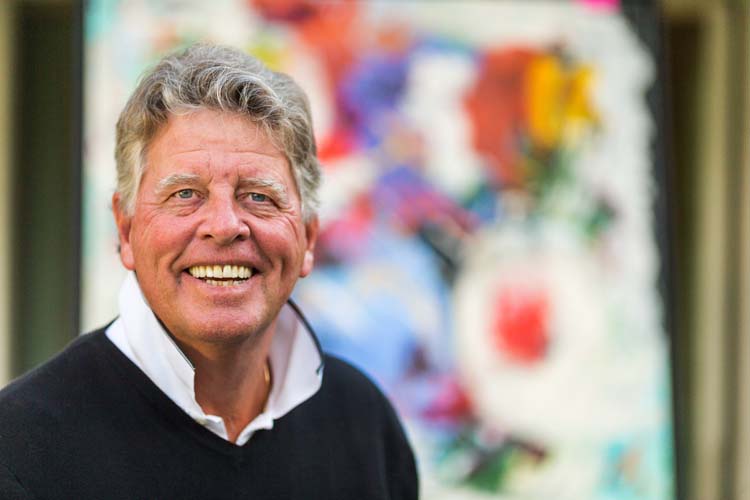 In the brief space of five years, Regan Kenyon's second career as an abstract painter has developed by leaps and bounds. Starting off with baby steps in a beginner's class at the Vero Museum of Art School in 2012 and striding off with an award from the A.E. Backus Museum's "Best of the Best" show earlier this year, Regan is now ready to go the distance with his first solo exhibition at the Center for Spiritual Care.
Opening on Jan. 5 with a public reception, "The Art of Regan: A Soulful Search" will be on view through Jan. 29.
The exhibition's curator, Warren Obluck, notes that ringing in 2018 with Regan Kenyon's paintings "is part of our new emphasis at the Center on providing opportunities for lesser-known promising artists, as well as for more established figures."
While Kenyon may be a new arrival to Vero's art scene, he began gathering inspiration for his art long before now. Kenyon and his wife Mary moved to Vero Beach in 2011 after he retired as president of Secondary School Admission Test Board, an educational testing service based in Princeton, New Jersey. Little did he know then that his 27 years with the company would creatively prepare him for his new vocation as an abstract painter.
"I've always loved abstract painting," Kenyon says, with an emphasis on the word "always."
His job, which required him to travel as much as 150 days a year, took him across the U.S., Europe and Asia. He says he found inspiration for the painting he does today in the great museums he visited on his travels.
Close to home in Princeton, the Museum of Modern Art in New York City (MoMA) was a favorite haunt. There he would commune for hours with the work of his Abstract Expressionists heroes Jackson Pollack, Willem de Kooning and Franz Kline.
"The thing that amazes me about them is that to truly appreciate one of their paintings – I find this also happens with Monet's waterlilies – you have to get up very close to it, to find out what they were actually doing, the process they used in painting the work."
As for process, Kenyon notes that many people think that expressionistic abstract painting is the result of a happy – or not so happy – collision between a frenzied, paint-splattering artist and an unsuspecting canvas.
"It's not happenstance," Kenyon insists. "It's deliberate, but it's not overthought."
Before his retirement Kenyon tried his hand at painting with a beginner's set of oil paints and a portable easel. An avid fly-fisherman, Kenyon intended to indulge both his creative side and the outdoorsman in him by painting en plein air.
"But I never was able to get into painting until I stopped working," he says, adding that if you want to get good at it, painting requires a generous amount of unstructured time.
Regan Kenyon wanted to be good at painting.
After the Kenyons moved into their early Peter Moore-designed home in 2011, a year elapsed before he found himself in a studio class at the Vero Beach Museum of Art School. Taught by Regina Stark, the class focused on abstract painting.
It was she who convinced Kenyon to put one of his first paintings into the museum school's student exhibition. In that untitled work, brushy shapes in primary colors are positioned amid a stream of warm white and pale blue currents that cascade from top to the bottom of the vertical composition. The canvas is not completely covered by the flow; Regan left a thin, white-primed margin around the composition's edges.
The device of a white border to separate the artist's painted reality and the objective world around it is one that Kenyon has used often. Sometimes he will mask out the borders with tape before he begins to paint, but he has been known to paint a white border around a composition that he previously had pushed to the canvas's edges.
Kenyon graduated from his beginning class with Stark to an advanced class taught by Deborah Gooch. Kenyon says he admired Gooch's own contemporary abstract work so much that he hesitated to bring his neophyte's skills into
her class.
After he "got up enough nerve" to study under her, Kenyon worked with Gooch in her museum class for about a year. During that time he met Tim Sanchez, a well-known Vero painter and good friend of Gooch who would drop in on her classes to say hello.
Two and two came together when Kenyon realized that Sanchez was the creator of the painting he had admired when it was on display (a recent permanent collection acquisition) in the art museum's Holmen Hall.
When Gooch left the museum art school to establish her independent atelier, Kenyon followed. He was one of the first of Gooch's protégés to paint with her and Sanchez during the studio's inaugural summer.
Sanchez's best advice to him: "You've got to paint more often – paint all the time."
Kenyon chuckles.
"When I would have difficulty he'd say, just paint through it. Just paint."
That is exactly what Kenyon did.
The Center for Spiritual Care is located at 1550 24th Street in Vero Beach, Florida. The Jan. 5 reception is from 5 p.m. to 7 p.m.     
Photos by: Gordon Radford
Click HERE to see more or buy photos