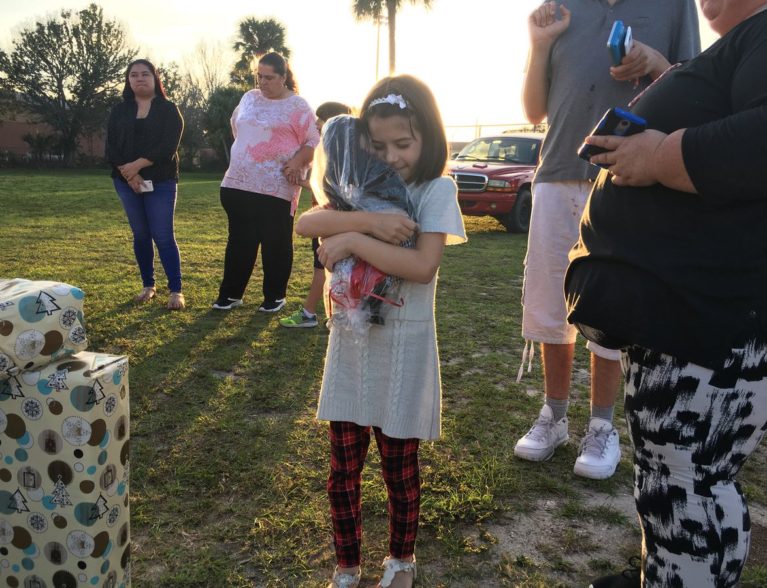 INDIAN RIVER COUNTY — For families in need, Santa giving presents to children on Christmas Eve means everything.
"It's incredible. I have a little one who believes in Santa," said Vero Beach resident Candice Nichole. "I didn't want to tell him Santa wasn't coming."
Nichole and her son are one of 24 families in need that received gifts from Santa on Sunday. Those families have about 60 children total, ranging from toddlers to teenagers.
The man under the hat and traditional red and white suit, Errand Frazier, said some of the kids never had a Christmas because their parents couldn't afford it.
"I want to see smiles on their faces," Frazier said. Children received gifts such as dolls, Lego's, action figures and more.
Frazier decorated his truck as a sleigh and put all the gifts on the trailer. On Sunday, Frazier and his family drove through Vero Beach and handed out the gifts to the families at their homes.
Some families met with Santa near the Jake Owen baseball field between 28th and 26th Streets and got their presents. The kids all had smiles on their faces and were ecstatic when St. Nick arrived.
"I love it!" said 8-year-old Halee Doud as Santa handed her a dollhouse.
Santa handed out gifts to #VeroBeach families in need on Christmas Eve. Watch 8-year-old Halee's reaction to getting a dollhouse.

Posted by Nick Samuel on Sunday, December 24, 2017
Donors gave the new gifts to Treasure Coast Compassionate Care so that the presents could be given to the families, said agency owner Jennifer Leatherman-Toby. Frazier asked the agency for support on his mission.
Compassionate Care is a home health agency that does fundraising, Leatherman-Toby said. With help from Leatherman-Toby, Frazier, and the community, families in need were not left out this Christmas.
Some of the families are dealing with hardships, but still remain positive in the face of adversity.
Nichole, 28 and a former life insurance agent, was diagnosed with multiple sclerosis in 2016. With her condition, Nichole was forced to leave her job and has been in and out of the hospital at least 10 times this year.
"This is the first time in my life that I've worried about how I'm going to provide for my child," said Nichole, who has a 6-year-old son, Nathaniel. "It has been hard learning to adapt."
Nichole said she hasn't been able to work and that doctors expect her to be in a wheelchair by the time she turns 35. Nichole said she has tried several jobs since diagnosis, but they never last.
"I'm not reliable because I'm always in and out of the hospital (because of my condition)," Nichole said. She said her son helps take care of her by doing chores around the home.
Multiple sclerosis, known as MS, is a disease that can disable the brain and spinal cord, health officials said. Eventually, the disease can cause the nerves themselves to fail or become permanently damaged, officials said.
Vero Beach resident Tabitha Doud, who has a special needs child, said Frazier's actions have restored her faith in humanity.
"I didn't think we would have a Christmas; without him, it wouldn't have happened for me," said Doud, 33, of Vero Beach.
Doud is a single mother who lives in a motel with her 8-year-old daughter. She said her daughter, Halee, has autism and a venous cavernoma, which is a vascular abnormality of the central nervous system.
Halee also has problems digesting food. Doud said Halee will go to the hospital a couple days after Christmas to get a feeding tube inserted in her body.
Doud said Halee also suffers from sleep apnea and asthma.
Vero Beach resident Tiziana Vazquez said she has a backlog of hospital bills from complications of the birth of her youngest child, Chandler, who is now a month old. She also has a 3-year-old, Malaigh, and a 1-year-old, Emmauel.
Vazquez, 23, said she didn't think her kids would have received any gifts this year.
"They're amazing people. I can't explain how much of a blessing they are," Vazquez said of Frazier and his family. "Families that can't provide need help."
Vazquez said she was in the hospital for almost two months before giving birth to Chandler, who stopped breathing for about a minute and 30 seconds after birth, but was revived.
Families in need can expect Frazier to return next holiday season to make sure more children don't miss out on Christmas.
Photos by Nick Samuel