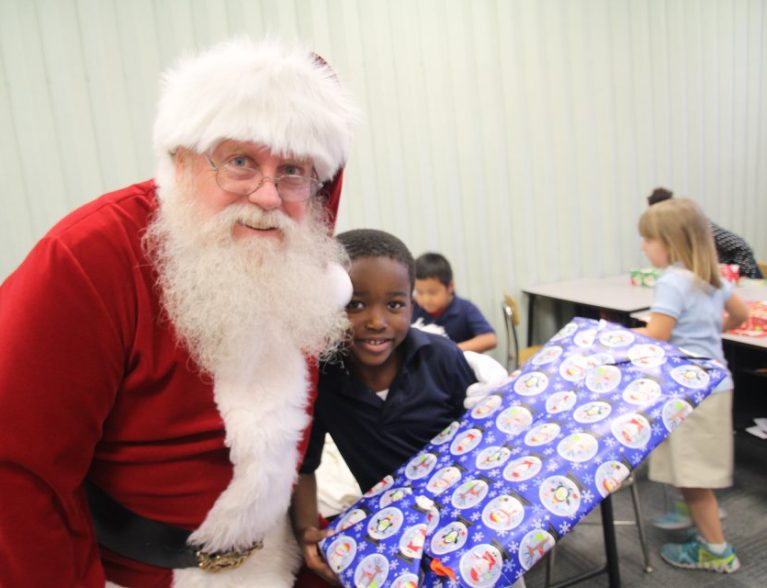 GIFFORD — Santa Claus made an early visit to students at a youth center and showered them with gifts they each requested on their Christmas list.
St. Nick on Tuesday went to the Gifford Youth Achievement Center and visited youth from kindergarten all the way up to high school.
"To see these kids come alive; the thrill you see in their eyes. It's an amazing thing," said Ron Davidson, the man under the hat and suit. "The energy they give you is really great. The kids are appreciative of what they get."
Santa's first stop was the kindergarten and first grade classrooms.
"It's like a rock star came into the classrooms," said GYAC marketing coordinator Christina Tascon. The remaining classes up to high school got their gifts in the gym.
The staff goes around and asks the youth what they want for Christmas, and the students get what they ask for. Nearly 250 students received gifts, with each gift having a maximum limit of $30.
The youth received toys such as Nerf guns, slime makers, fidget spinners, dolls, dinosaurs, Lego's and more.
Tascon said students in sixth grade and above usually get gift cards.
"At that age, they want to buy others gifts or buy something they want," Tascon said.
The gift donors include local organizations such as Oak Harbor, Isles at Waterway Village, St. Paul's Church, Garden Groves, Professional Advisory Services and Grand Harbor Community Outreach, Tascon said.
"They see these children appreciate and need the gifts, making their dream come true this holiday season," Tascon said.
Santa, who made a visit to the youth center last Christmas, plans to make another visit next holiday season. So, youth better make sure they're on his nice list, because he's checking it twice.
"It's something I love to do," Davidson said. "It's all about the kids and it brings joy to people."
The Gifford Youth Achievement Center is located at 4875 43rd Avenue.
Photos provided by GYAC: