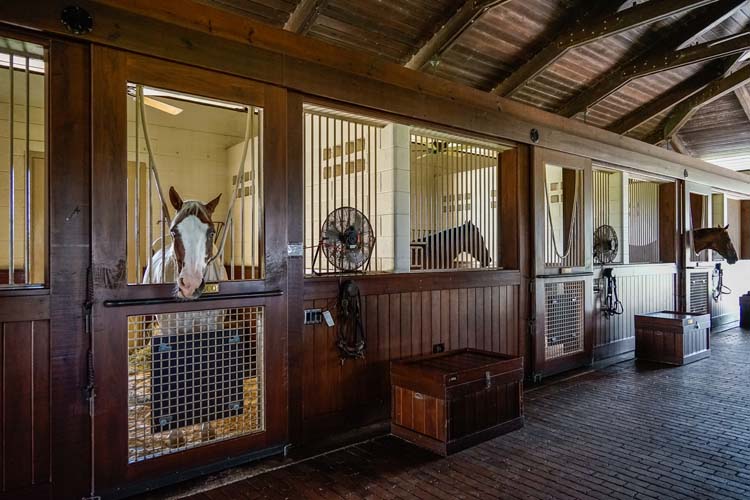 Words struggle to describe the beauty and appeal of the equestrian estate at 7355 69th Street. It is most assuredly not your basic house/barn/pasture. Utterly private and peaceful on 36 verdant acres, amidst the beautiful pine, palm and grasslands west of Vero Beach, this magnificent compound is likely the most beautiful, thoughtfully constructed equine estate in the county.
Called, simply, The Equestrian Center, the property includes a spacious main house that is as warm as it is elegant; a serene, well-stocked lake; a charming lakeside guest house; and immaculate accommodations for its equine residents – including large sheltered paddocks, three large training arenas; and an absolutely exceptional concrete block barn with trainer's residence.
The estate sits on high ground, virtually hidden behind an impressive fence and entrance gate. Ascending a broad stretch of lawn to the main entrance, the wide, bricked driveway passes between double hedge-rows, designed with the clean symmetry of a formal French garden.
The generous use of fine natural woods – solid mahogany doors; cypress, pine and South American Iroko floors, walls, ceilings and crown molding – establishes the home's warm, welcoming country character.
The mahogany entrance door features full-length sidelights, and opens into the striking foyer, its honey-toned chair rail and wainscoting paired with mossy green striped wall covering. The foyer itself and the long, subtly lighted hallways extending from it easily serve as galleries for an owner's art collections, as do all the home's hallways.
A powder room off the foyer sports amusing, stylish wallpaper which looks like shelves of books and is referred to as The Reading Room.
Wood gloriously dominates the stunning great room, used in the soaring, open-beamed ceiling; gleaming floors; custom, built-in shelving units and crown molding.  The room's focal point is a floor-to-ceiling North Carolina Crab Orchard stone fireplace.
Well-chosen, textured wall coverings, beautiful metal chandeliers and wide doorways further enhance the casual elegance, while glass doors and large windows offer breathtaking, panoramic views of the white fences, emerald paddocks and shimmering lake.
Three wide doorways from the great room to the dining room, and another three from dining room to kitchen open up striking views of all three rooms. The entire expanse, from fireplace to kitchen, brings to mind the Great Hall of a European castle.
The kitchen boasts beautiful, cocoa-hued woodwork, including a cabinet-front side-by-side fridge, plentiful cabinet space, and Thermador appliances. The expansive island/breakfast bar and countertops are of polished gray, striated granite. A super-sized icemaker, stacked ovens, built-in TV, hidden vent, recessed lighting and huge warming drawer are additional features. Adjacent to the kitchen is an informal dining area/sun room with an indoor grill.
A private suite, one of the home's many flexible spaces, also contains a little office, and could accommodate a secretary, assistant or nurse. Pocket doors here are of solid pine.
A nearby corner room could be considered a sophisticated man cave, with space for a pool table, should he be so inclined.  Custom built-in storage units, dark floor-to-ceiling plantation shutters, and a built-in big screen TV add to the ambiance. A floor-to-ceiling picture window affords a tranquil view of the grounds.
The master suite, which also offers dramatic views, has a huge walk-in closet with dresser island; full his and hers bathrooms, hers with a uniquely designed 3-panel mirror, hinged so the side panels close as storage area doors or open to create a full-length mirror, like those in dressing rooms in clothing stores. There is a cozy sitting room with chair rail, soft red wall covering and a view of the emerald pastures, which could be converted into a nursery.
The current owner ("Just call me Cynseo," she says) loves her beautiful home, and points out the many features and rich materials she calls "to die for" – among them the extra-large laundry room, with custom cabinetry, ample hanging space and clever devices for air-drying garments
The lovely, large guest house is well-appointed and very private, it's spacious screened porch providing endless opportunities for reading, relaxing and gazing out upon the  grassy yard sloping down to the  tranquil  lake.
Cynseo is, of course, a horsewoman. In addition to her own horses, she also boards horses that train on the excellent facilities, all maintained with the same fastidious care and attention to detail as the houses, reflective of Cynseo's previous career as a research scientist.
The well-designed Equestrian Center certainly has income producing potential, with eight 2-sided paddock buildings, each in its own spacious half-acre and each with an automatic watering system and feed station.
One double building has a 1-acre paddock, and there is also a small "hospital paddock." Training takes place in a 240-foot by 360-foot sand-mix jump arena; a 140-foot by 240-foot dressage arena; a 5-acre grass jump arena; and a broad, 1-mile-long grass hacking trail along the lake.
The three washing stations have their own water and lighting and the one inside the barn has hot water.
The elegant, 5,000-square-foot barn is built to last, with concrete block construction, heavy steel exterior doors, brick and southern yellow pine floors. Each of the eight 12-foot by 14-foot stalls has automatic water and cross ventilation as well as a ceiling fan. There is a large supply room and air-conditioned tack room.
The barn also houses a complete and stylish residence for the trainer, with tray ceiling, office and laundry. The property also includes an equipment garage, tool area and pump room.
Premier Estate Properties broker associate and co-listing agent Cindy O'Dare says, "There is no better equestrian center available in Indian River County, possibly Florida, that is currently on the market. It has been impeccably and lovingly maintained by the owner."
She adds that a recent "substantial price reduction makes this an incredible value."
Cynseo comments that the spacious house and prominent, well-tended grounds would make the estate a perfect location for parties, special events and picture-perfect weddings.
Vital Statistics
Address: 7355 69th Street
Subdivision: Indian River Farms
Construction: concrete block, stucco
Acreage: 36 acres
Bedrooms: 5
Bathrooms: 7
Additional features:  Guest house; modern barn with residence; paddocks and training facilities; extensive custom woodwork in main house; beamed cathedral ceilings; Thermador appliances in island kitchen; window treatments included; whole house surge protector; built-in backup generator; stocked lake; property fully irrigated and fenced
Listing agency: Premier Estate Properties
Listing agents: Cindy O' Dare, 772-713-5899; Dolf Kahle, 866-220-1905
Recently reduced listing price: $3,395,000