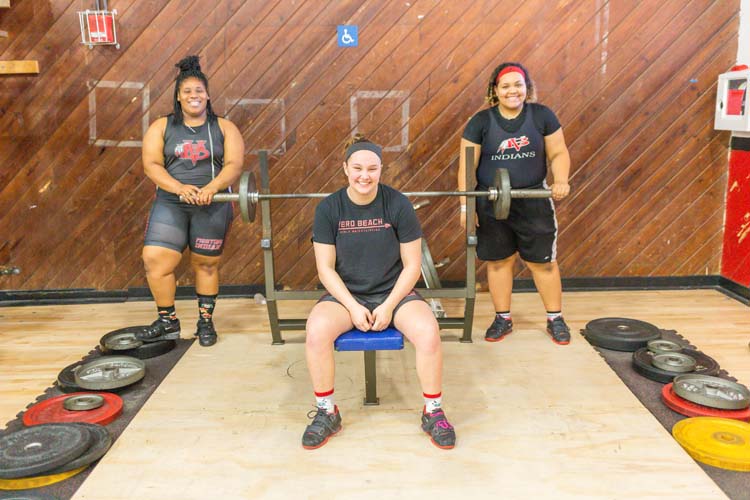 The Vero Beach High girls weightlifting team was described by one rival coach as an emerging dynasty, and while the results this year and last tend to corroborate that description, let's tone it down a tad and call it a period of extreme prosperity for the program.
Head coach Pete DeLuke agrees, especially since six of the seven lifters that qualified for the state tournament last year are back. The eighth-place finish at states came on the heels of an undefeated regular season, plus district and regional championships. "Sending that many to states was a first for us," DeLuke said. "We had two that scored points. Verlicia Scarlett got second place in her weight class (199 pounds) and Sarah Kehoe was fifth (169). That was obviously our best finish ever and we were pretty excited about that."
The nucleus of the team consists of state-tournament veterans Scarlett, Kehoe, Elizabeth Case (110), Chloe Holland (129), Jadis Thompkins (unlimited) and Tijah McGriff (unlimited). DeLuke also identified Jayda Jenkins (119), Kiiya Housing (119), Maddie McCain (129), Molly Metcalf (139), Taniya Perry (154) and Audra Teske (183) as state hopefuls.
"The six coming back from the state tournament are all doing great," said DeLuke. "Potentially we have a dozen or so going to states, but we will see. Getting there is tough and we don't know what else is out there. Those girls can get there if they keep doing what they are doing right now."
This Indians team was undefeated prior to hosting the Vero Beach Invitational last Saturday. Twelve schools participated in the next to last meet of the regular season before the district championships in January.
"We are maxing everybody out this week (in practice)," DeLuke said before the VB Invitational. "I do that to see where we are at. We will be up against some of our district and regional foes. That will show us what we are capable of doing at districts and regionals."
The accomplishments of the girls in the weightlifting program have not gone unnoticed. Student interest is at an all-time high – a far cry from just a decade ago.
"We have over 20 more lifters than we did last year," DeLuke said. "The word has spread that this is fun. This is not a place where the girls are working out grudgingly and they don't want to come to practice. But we also go after it as hard as we can.
"I'm satisfied with the number of lifters we have this year (40 on the roster). I've never had this many before. I believe next year we will have even more. We are really excited about that. With more success I believe we will have a better program.
"We started this team in 2008 and it was difficult for probably the first four years. I was coaching football and I had to have weightlifting practice after football practice. A lot of the girls didn't want to go home and come back. The girls that came were doing off-season conditioning for fall or spring sports.
"Every year we grew and then we had a couple of girls coming out just for weightlifting. But it was still  difficult to get big numbers because I wasn't practicing right after school. I now have a very knowledgeable assistant coach in Brian Secrest. He takes the afternoon group when I'm at football practice. That's been very helpful in getting more girls to participate and go year-round with the sport."
Coaching young people is hardly a passive endeavor for DeLuke. At VBHS he does football in the fall, weightlifting in the winter, track and field in the spring. He coaches his own kids in recreational football, baseball and soccer leagues. A lot of overlapping naturally occurs.
"It's kind of taxing on my family, but my wife and kids understand that I love coaching," DeLuke explained. "I enjoy molding these young kids and helping them get better. Obviously, the main purpose is to get a good education. Whether they go on to college or not, hopefully someday they can be successful as a result of sports."
Vero will have lifters in all 10 weight classes going full throttle when the postseason plays out in January and February.