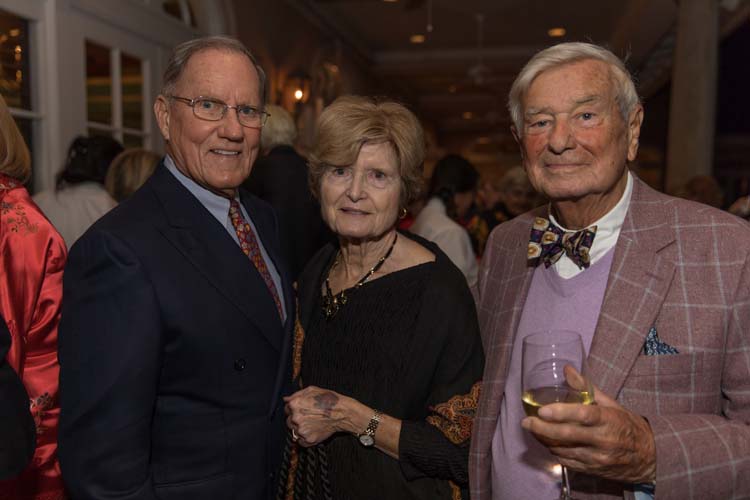 With flawless harmony, Brasil Guitar Duo musicians João Luiz and Douglas Lora gave a virtuoso performance last Tuesday evening at the Atlantic Classical Orchestra's sixth annual Benefit Concert at the Orchid Island Beach Club, hosted by Vero Friends of the ACO.
"This is the start of the 28th season of the ACO," said Jean Beckert, Friends president, in her welcome address. "Many of you have supported the ACO from the very early years and that speaks volumes for our very special orchestra."
Maestro David Amado shared his excitement about the upcoming ACO season, saying, "You don't have to look much further than January to see how spectacular it is. We have got so many great things on the docket, with a whole pile of wonderful collaborations."
He noted that for their ambitious first Masterworks concert, featuring the Beethoven Symphony No. 9, they will be joined by the Community Church Chancel Choir, Vero Beach Choral Society, Treasure Coast Community Singers, and Benenson Young Artists of the Palm Beach Orchestra.
"It's a season that represents such a wide range of music with such great guest artists and such great collaborations. I'm really, really fired up about the quality of what we've got going on this year. I think you will be very pleased," said Amado.
Introducing the Brasil Guitar Duo, Amado said he was struck by the virtuosity of their musicianship after hearing them for the first time. "Not only do they sound as musicians like incredibly generous, warm people, but as it turns out they are incredibly generous and warm people, just to know. And what a joy that is, to meet people like that who play music at that level. It makes me just want to be around them all the time."
The audience concurred, captivated as they listened to the intricate synchronization of the duo, who have each earned master's degrees in music and have played together for 20 years. Their pieces included one by French Baroque composer Jean-Philippe Rameau, originally written for harpsichord; Mario Castelnuovo-Tedesco's Prelude and Fugue in C-Sharp minor, No. 7; a tango by Argentine composer Astor Piazzolla; and Karaté, by Brazilian composer Egberto Gismonti.
The pair also played three of the four movements of Sonata de los Viajeros, by Cuban composer Leo Brouwer. Lora described it as possibly the greatest piece written for two guitars in this century and noted that they were pleased to be the first duo to ever record it.
"That was so wonderful," said Nancy Briggs after the performance.
"Outstanding ensemble," agreed Raz Allen. "The way they played off each other and their voicing was extraordinary."
"The ACO is actually miraculous because it's situated in three beautiful communities, all of which have enough connoisseurs of fine classical music to keep the orchestra performing," said Jean McMullan, wife of Conductor Laureate Andy McMullan, adding that the small orchestra has maintained the highest possible quality; augmenting when needed to play music not normally in their range. "Imagine starting the 28th season with Beethoven's Ninth Symphony!"
For more information, visit ACO-music.org.
Photos by: Denise Ritchie
Click HERE to see more or buy photos