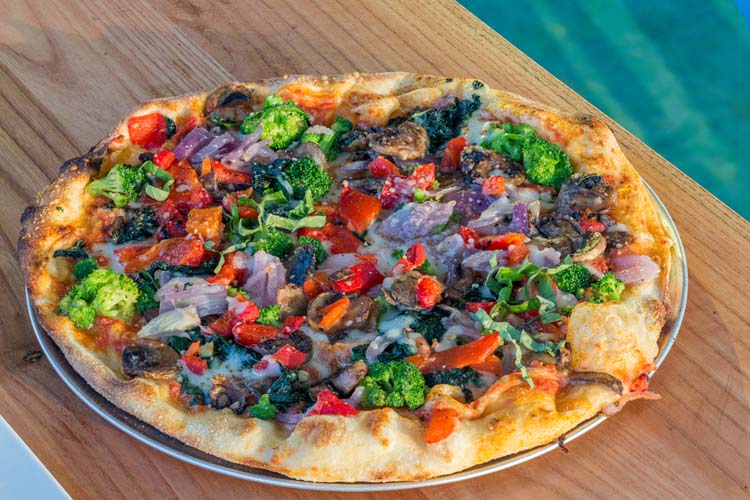 One pizza place has taken over from another in the remodeled gas station on Old Dixie Highway. But unlike The Garage, which never quite made it, the new Station 49 wood fired pizza looks – and tastes – like a winner.
Headline news: Not only is the pizza good here, but Station 49 serves a variety of dishes that are much like those found at Citron Bistro on the island. The similarity is not a coincidence. Both restaurants are owned by Jay McLaughlin, and Station 49 chef Dino Parton – longtime chef at McLaughlin's restaurant in Manhattan – helped with the launch of Citron a few years back.
Look & Feel: Located in a clever remodeling of a one-time Texaco station (hence the name), Station 49 is a fairly small restaurant, but it is much brighter and more tastefully decorated that in its previous pizza incarnation. With table seating for a couple dozen, a few high-tops and some additional spots at the counter, it can be noisy when full. There are five tables under a canopy outside that might be a quieter dining choice (depending on whether they are occupied by families with children) on nice evenings.
Food: On two visits over the last couple of weeks, my husband, a companion and I sampled two starters, three of Station 49's salads, several different pizzas, the Station burger, and a pasta entree.
For starters, we tried the blistered shishito peppers ($7) – mild Japanese peppers (with an occasional spicy one, just to keep things interesting) that blister quickly when heated in a skillet. Served in garlic, soy and tahini, and sprinkled with sesame seeds for crunch, this is an addictive Asian appetizer.
I also enjoyed the burrata caprese ($10), a creamy Italian buffalo milk cheese served with basil, slices of wonderful beefsteak tomato, and drizzled with an aged balsamic vinegar glaze. For salads, we sampled the pear salad ($11), the Popeye spinach salad ($11), and the New York Caesar ($9). The salads here are on a par with those at Citron, which is to say among the best in town.
On our first visit, we tried the white truffle bianchi pizza ($14) – a perfectly prepared, thin-crust Neapolitan pizza topped with ricotta cheese, mushrooms and white truffle oil. On the second, we sampled the "classic" – not on the menu, but similar to the margherita ($12) – and the garden pie ($13), a pizza loaded with broccoli, spinach, mushroom, tomato, charred red onion and marinated peppers. Our vote was for the white pizza.
My husband also on one of our visits went for the Station burger ($14) with truffle parmigiana French fries. The burger was very good, he said. But he raved about his choice on the second visit – the cavatelli with sausage and broccoli. Tossed with garlic, white wine and pecorino cheese, this very simple pasta dish was sensational.
Drink: Station 49 has a nice selection of cold beers, and offers a choice of wines by the glass for $7.
Service: Even in its opening days, everything seemed to be going smoothly. Our server Elizabeth was very attentive.
Prices: Prices for 12-inch pizzas ranged from $12 to $15, with most in the $13-$14 range. Dinner for two, with pizzas, salads and a beer or glass of wine each but no dessert, would  run about $60 to $70 before tip.
Initial impressions: Actually, a friend summed up this best: 'Kind of like Citron but with the addition of very good pizza.' That's about right, and it's hard to see how that combination can miss.
I welcome your comments, and encourage you to send feedback to me at tina@verobeach32963.com.
The reviewer dines anonymously at restaurants at the expense of Vero Beach 32963.  
Station 49
Hours: Daily, 5pm to clsoing
Beverages: Beer and Wine
Address: 1802 Old Dixie Highway, Vero Beach
Phone: 772-492-8342
Photos: Gordon Radford
Click HERE to see more or buy photos