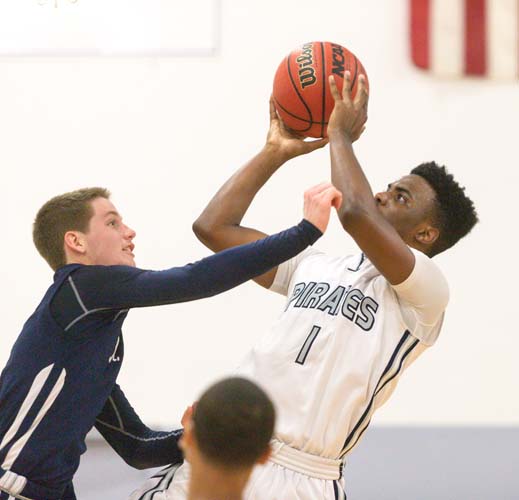 St. Ed's varsity boys basketball team opened the 2017-18 regular season Dec. 1 at home with a convincing 79-54 victory over St. Andrew's Episcopal Academy. Brandon Succes paced the attack with 24 points. T.J. Kenney chipped in with 20 as the Pirates shot 57 percent from the field.
Through last Friday St. Ed's was 2-1 after trouncing Somerset Prep, 75-41, and dropping a 54-44 decision to Lake Worth Christian. Kenney scored 20, Succes 18 and Andrew MacIntyre 16 against Somerset. Succes was the only Pirate in double figures with 24 against Lake Worth.
This is season seven for head coach Greg Zugrave and some unique challenges lie ahead. The coach is certainly up to the task. He has never had a losing season while quietly building a career mark of 92-56 through six campaigns. The state of the program was in general disarray before his arrival. We are talking about the resume of one of the more astute young basketball coaches on the local high school scene.
"We have not had this much inexperience since my first year here," Zugrave told us. "We find ourselves spending quite a bit more time on things that we have not had to do in the past. But that's OK because it is part of rebuilding the team and gaining experience. They are learning by doing extra passing and shooting drills. We are back to teaching the fundamentals of the game.
"Slowly but surely we are getting there, however there will be nights when it is going to be frustrating."
The first step in shaping this team started with games in a very competitive summer league at Vero Beach High. Conditioning work in the early fall was also emphasized, especially for those not engaged in another sport. Zugrave wanted his guys to be in shape mentally and physically even before preseason camp officially opened.
"We try to build camaraderie before day one," Zugrave said. "We also want them to be active so when they come to that first practice it's not a shock. They are going to be doing a lot of running. We lost two key leaders from last year when James McGuire and Thomas Bockhorst graduated. We knew it would be difficult to replace them. Senior Payton Cleveland decided drop basketball and focus on football this year. He's 6-feet-5 and that doesn't come around all that often. We will need some support down low because we are not a very big team."
Every high school team loses players through graduation, transfers, etc. This team looks to be quick afoot and will rely on pressure defenses with back-door, weak-side cutting and passing to create scoring opportunities near the basket.
"We know that Brandon Succes and Andrew MacIntyre are going to lead us in the scoring column most nights," said Zugrave. "Other guys will contribute in a lot of different ways. Jackson Jennings will play a significant role by bringing athleticism and energy onto the court. J.P. Scott, Mac Carnell and Anand Chundi are becoming more comfortable in their roles. T.J. Kenney may be a little undersized, but we want him to play under the basket. He is capable of doing the job."
St. Ed's will host a second consecutive D5 Alive Holiday Tournament Dec. 28-30. Zugrave reflected on this and other matters of greater import than wins and losses on the court.
"This is my favorite event of the year. We do this in honor of former St. Ed's basketball player and graduate Darell Flowers. He passed away (at age 20) from a very rare form of kidney cancer. A foundation has been set up in his name and we run this tournament in his memory. Eight schools will participate, including a team from Cincinnati, so we are really excited about this tournament.
"My time at St. Ed's has been a blast. The people you meet and the kids you spend time with are what you remember. Losing Darell and (assistant) coach (Chris) Lewis definitely took a toll on me personally. When I'm having a bad day I think of something Chris said, or Darell did. That's what really stands out for me over the course of the last six or seven years."
The Pirates have a schedule that blends games with opponents – some common – from both the Sunshine State Athletic Conference and District 7-3A. After D5 Alive, there will be two more bites at a tournament-championship apple in January and February.