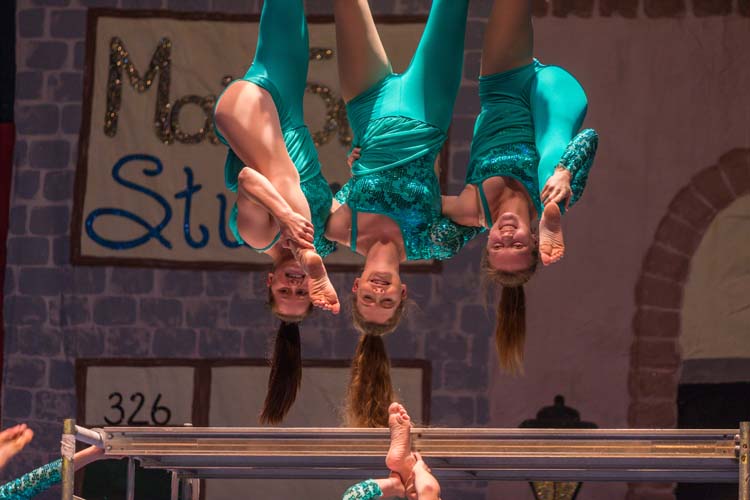 The gymnastics and performing arts students of the City of Vero Beach Recreation Department's Aerial Antics Youth Circus program took the classic family road trip to a whole new level with this year's original production, "Christmas Road Trip."
The Vero Beach High School Performing Arts Center was packed with family, friends and diehard Christmas fans who had come to watch the exciting 22nd annual holiday performance. More than 200 performers ranging in age from 3 to 21 executed dance routines, aerial acts, gymnastics and acrobatics to the delight of the audience.
In the story, three sisters had one magical encounter after another as they made their way north from the fictional Tinsel Town, Fla., to their grandparents' home in Silver Springs, Md.
Shunning the stereotypical lineup of holiday elves and reindeer, the show instead featured a giant Christmas spider, faeries and dancing mice, were among the unlikely characters the sisters met while visiting a little town along the way and during an overnight campout in the Candy Cane Forest.
This year's living Christmas tree took things over the top, with the older, more experienced performers using scaffolding and a triple trapeze to perform some aerial magic. Other atypical props included Christmas bulb lights, a dancing tent and a couch filled with the 'crumbs' of dancing gingerbread men.
"Our program is different because it's performance-based," said Patty Howard, assistant recreation director, who is herself a product of the performing arts program. "There's no competition; they don't have to be perfect. We teach them the proper way to do things, but we just want them to go out there and have a great time. It's good for their self-esteem."
Photos by: Gordon Radford
Click HERE to see more or buy photos