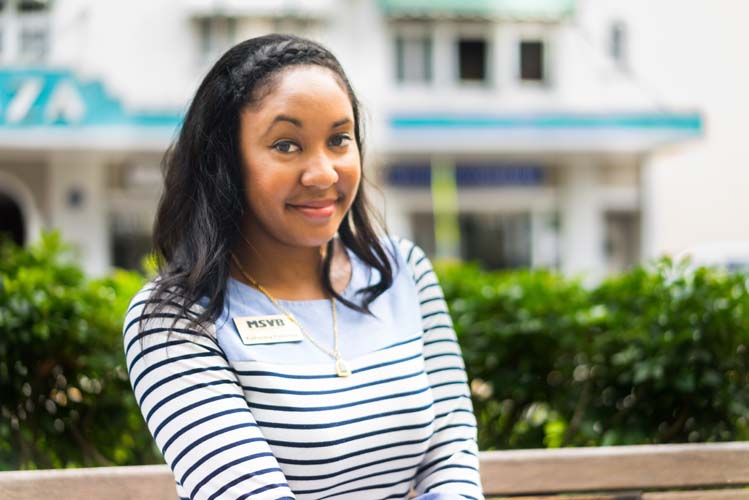 Main Street Vero Beach has a new executive director. Katherina Paliwoda, who has a master's degree in historic preservation, took over the reins of the nonprofit's local chapter when former director Elaine Jones retired. Jones will stay on as vice president of the board.
Paliwoda's predecessor brought a lengthy resume focused on her fundraising skills while working and volunteering for an impressive list of nonprofits. During her tenure as Vero's Main Street executive director, Jones increased membership threefold and brought in new vendors for Downtown Friday.
Few if any of the past Main Street directors are as credentialed as Paliwoda in historic preservation. Already she has managed something of a coup for Vero Beach: For the first time, Vero will be hosting the Florida Main Street Annual Conference July 30 through Aug. 1.
"It's an opportunity to share our programs with others and get feedback on what has worked with our counterparts," she says.
According to Paliwoda, Jones' most significant legacy was her ability to mend broken bridges among various factions in the historic downtown community. "She brought back the whole idea of Main Street by getting more people to believe in the program again."
"Elaine also played a part in growing our role with the arts district," says Paliwoda. Vero's Main Street participates in the monthly gallery strolls, maintaining a gallery and artist studio, and promoting a monthly guest artist there.
"Some of the more successful Main Street programs have an art overlay. Art and history are really good together," says Paliwoda. Whether it's murals of orange groves that portray the area's history or galleries featuring art both Vero-centric and inspired by far-off places visited by a well-traveled community, the arts district is a microcosm of the demographics of Vero Beach.
"People may be drawn here by the beach, but while they're here they also crave cultural experiences," says Paliwoda. "People want to be able to take a piece of Vero home with them to remind them of this nice place. Art brings that out."
She cites the work of the mostly African-American landscape painters known as the Florida Highwaymen as unique to this area and a draw for heritage tourism. At the same time, Vero's visitors who are attracted to the ocean and tropical environment might lean toward beachscapes and landscapes.
While Main Street America focuses on the revitalization of older commercial areas by protecting the historic character while promoting the economics of those communities, Paliwoda brings new energy to the streets of Vero Beach's historic downtown with her love of architecture and history.
Paliwoda was born in Germany but moved to Panama City when she was 4. She spent much of her life in the Panhandle and developed a love of old Florida. But her penchant for history and architecture extended far beyond Florida, and took root at an early age. Her parents met in Thailand where her mother is from and where her father served in the Air Force during the Vietnam War; every other year while Paliwoda was young, she spent the summer months in Thailand, immersed in the country's rich culture and ancient history.
Unsure of what direction she wanted to take her career, she changed majors three times before finally settling on humanities at Florida State University; later, she went on to earn a master's in historic preservation from Goucher College in Baltimore. As part of that program, Paliwoda participated in what she refers to as "Preservation Camp," a two-week intensive introduction to the graduate program.
Guest lecturers were highly regarded preservation professionals from around the country. It was through these intensive sessions that Paliwoda discovered the Main Street movement. "I realized how much I loved the history of architecture. The lead professor was Richard Wagoner, the main coordinator for the national Main Street Center."
Back in Tallahassee, Paliwoda spent time as a docent at the Florida Historic Capitol Museum. She then went on to work as a program assistant for the Florida Main Street program in Tallahassee. That experience, she says, has given her a unique overview of the state and its 50-plus Main Street programs.
Now that she is in Vero Beach, Paliwoda's excitement is palpable as she talks over plans for growing the MSVB program. She's hoping to add new events along the lines of the three already well-known traditions: Downtown Friday Night, the Main Street Vintage Market and the Hibiscus Festival, all of which have helped to draw crowds to the downtown area.
As crowds grow, she is working to improve basic needs like outdoor lighting, long an issue at the after-dark festivities.
"Main Street created events as a way to bring people downtown, but what Main Street does is much bigger than that," explains Paliwoda.
"We also work with the city on infrastructure and the preservation of historic buildings through facade grants. We're an economic-based preservation program."
Main Street's job is to recreate the sense of community that once filled the historic area. Paliwoda explains that it was first the Interstate and later malls and big-box stores west of town that some killed downtown businesses. Gradually, others have opened and with support, are doing well. "We have shops like the Tea and Chi and The Parisian Hostess that carry unique items that you can't find anywhere else."
With an ever-changing streetscape, it's crucial for Main Street Vero Beach to reevaluate the area included within the organization's boundaries. And since her arrival, Paliwoda has brought to the board's attention several historic buildings that lie just outside their domain, such as the Vero Railroad Station and Orchid Island Catering.
Her biggest challenge has been educating the community on everything Main Street has to offer. Paliwoda's multi-faceted approach includes plans to expand the boundaries, improve branding and networking. She also wants to facilitate preservation and develop events that will increase consumer traffic along 14th Avenue. While Main Street receives both private and public funding, most of its capital is generated through membership fees and event proceeds. That means the nonprofit's growth depends on how well it achieves its goals, and in the process, gaining recognition for its efforts.
Preservation is the foundation upon which the Main Street program was founded, and downtown Vero Beach has excellent "bones," Paliwoda says.
"When I look at buildings, I look at them a little differently than other people. I notice the little cracks in the walls or pieces missing off intricate detailing. Maybe it needs to have a paint job or the signage isn't authentic."
In terms of streetscape, Main Street has already done a lot toward beautifying downtown, in Paliwoda's opinion. The baskets, flowerpots and flags really make a difference; when you have something aesthetically pleasing, people will take the time to stop and walk, she says. "You want to see people standing in the street to take a picture. You want them to see buildings that are well cared for."
Gazing down 14th Avenue, Paliwoda literally rubs her hands together as she pauses to look at the marquee over the old Florida Theatre and then over at the Pocahontas building up the street. "We have some really great buildings down here, and I can't wait to see what we can do with them."