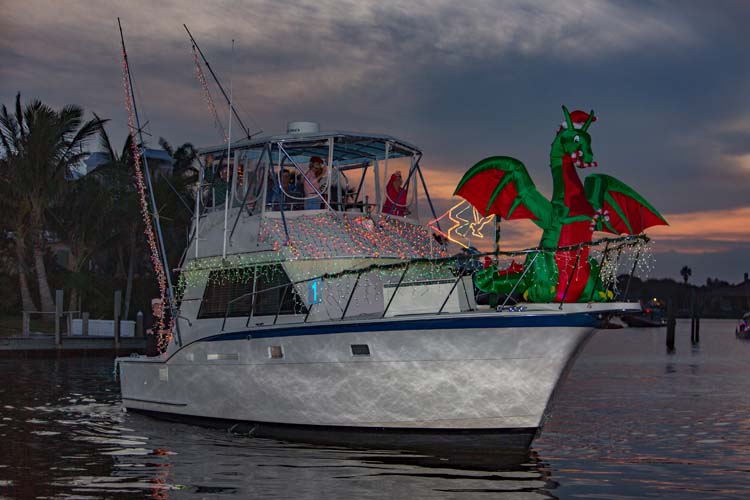 White chairs dotted the waterside viewing area as Moorings residents and friends gathered at Compass Cove last Friday for the 2017 Christmas Lighted Boat Parade, jointly sponsored by The Moorings Property Owners Association, Inc., The Moorings Realty Sales Company and The Moorings Yacht & Country Club.
Many showed off their holiday spirit with assorted Christmas garb as they enjoyed refreshments, mingled with friends and enjoyed the lovely weather. As the sun began to set, choir director Gary Miller led members of the Indian River Charter High School Show Choir in a delightful performance of holiday songs.
Afterward, to the delight of eager little ones who had waited patiently for his arrival, Santa was driven in via golf cart to pass out candy canes and listen on bended knee to their oh-so-serious Christmas wishes.   After a blessing by Father Murphy of Holy Cross Church, the Moorings' Christmas tree was lit and fireworks sparkled overhead.
Parade organizer Vince DeTurris provided the commentary as the colorful fleet began to make their way into the cove and past the appreciative crowd, who waved and called out to their friends on boats bedecked with twinkling lights from bow to stern and even outriggers. Many boasted inflatable decorations, including an impressive dragon on the lead boat. Christmas trees, Santa, snowmen, reindeer and snowflakes were popular embellishments and, this being Florida, there were also dolphins and flamingos. A 900-horsepower Coast Guard response boat blaring Christmas carols joined the pleasure craft, and the Indian River County Sheriff's Office boat ensured their safety.
Photos by: Denise Ritchie
Click HERE to see more or buy photos