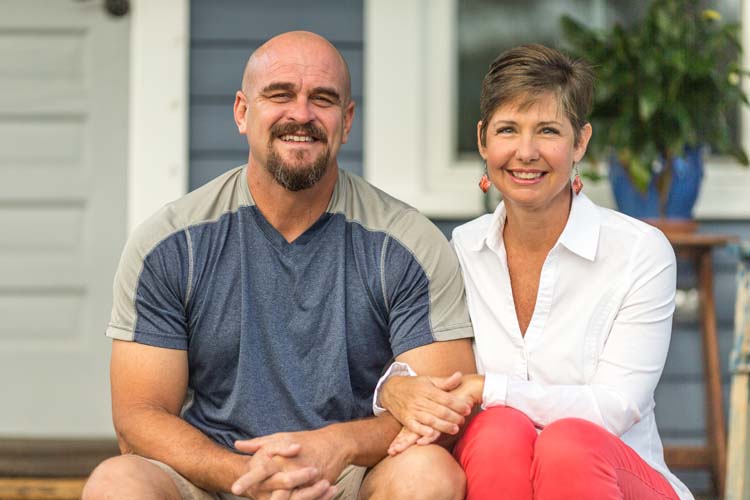 It took a couple recently arrived in Vero from South Florida to recognize the potential of the historic house at 2355 16th Ave. in the Old Town neighborhood just north of downtown.
Architectural historian Anna Brady says the house dates to 1916, not long after the canals were dug that drained the swampy land where Vero now sits and three years before the city was chartered.
Jennifer and James Johnson moved here in part because they were tired of the hustle and bustle of South Florida and in part because Vero is midway between his parents in Melbourne and hers in West Palm. They also "fell in love with the charm and artsy-ness of Vero Beach," says James, an ordained Presbyterian minister working now as a painter. "We feel it fosters the artistic spirit."
When they began looking for a place to live, a real estate agent told them about a house for sale in Old Town, but they spotted their current home – which had a for sale sign in the yard – before they made it to the agent's listing.
"Jennifer fell in love with the house immediately," James says, "but I looked at her and said, 'no. no.'"
When he got inside, he changed his mind. "What sold me were the 9- and 10-foot ceilings. It's the volume. It makes the house feel expansive. I knew all the work would be worth it, it had the drama."
The Johnsons bought the two-bedroom, two-bath, 928-square-foot frame house in 2016, paying just $56,000. There were higher offers on the table but they won out by writing a letter to the owner, whose family had owned home for generations, vowing to restore it with loving care and then live in it, not flip or rent it out.
"I loved the bones [of the house]," says Jennifer, an accountant who works from home. "It looked like a combination Craftsman Style and Florida Cracker."
The bones are made of Dade County Pine, a dense, resin-rich and therefore insect repelling wood that has been "harvested out of existence," James says. "It has 75 percent more rings. Today's wood is lighter because it's grown faster with fertilizers and hormones. An equivalent wood today is Brazilian ipe, which costs $16 a foot. People tear down these old homes and don't think about the high quality of the wood they are throwing away."
The wood was so hard Jennifer broke two hammers pulling nails and James had to predrill holes for new fasteners because the nail gun couldn't penetrate it.
The Johnsons took the house "back to the rafters," keeping what they could, matching what they couldn't, modernizing and making the house more livable.
The roof was sprayed with foam for insulation that also shored up structural integrity. Different foam insulated the walls, which helps keeps their electric bill low, between $25 and $70 a month, even though they say they keep the air conditioning on 73 degrees.
Brady, the architectural historian, "really wanted us to keep the original windows," Jennifer says. Windows are a key feature of any architectural style, but the old wooden frames were completely worn out and a compromise was struck. The new energy-efficient windows have decorative muntins that make the glass appear as if it has panes the same size as the poured, wavy glass in the old windows.
The Johnsons reused most of the original doors, but turned them into pocket doors to save space. To counteract the heavy weight of the solid wood antiques they found hardware that slows the traverse, before it slams into the frame. "It was splurge-worthy hardware," James says. "It's the 'little feels' that make a house work."
They took out dividing walls, so the "great room" flows into the kitchen, with its fixtures and finishes mirroring an earlier age, and a bit of "steampunk" or "machine age" interpretation thrown in.
Ceiling fans reminiscent of wind-turbines with brushed aluminum blades, pulley-rigged lamps, Edison bulbs, a folding silver pot-filler faucet above a massive stove with six gas jets and cast-iron grates hit just the right notes – nostalgia, fantasy and utility. Subway and hexagonal black-and-white tile offer the perfect foil to the hardware.
The paint colors are variations on gray, running the tonal scale from white to deep blue-gray, and the cool tones bringing out the warm woods.
The couple planned to spend $50,000 on renovation, but ended up putting $85,000 – along with a lot of sweat equity – into their home, bringing their investment to $141,000.
"We have exactly what we want, and I think we'll recoup every bit of our investment [if we ever sell]," says James, and, indeed, a nearby comp recently sold for $167,000.
The Johnsons say their "resurrection" of the house makes them feel they are part of "an up-and-coming vision" taking hold throughout the art district, Old Town and Cultural Arts District that adds up to more than saving older buildings.
"We think beauty is transformative," James said.
Photos by: Gordon Radford
Click HERE to see more or buy photos