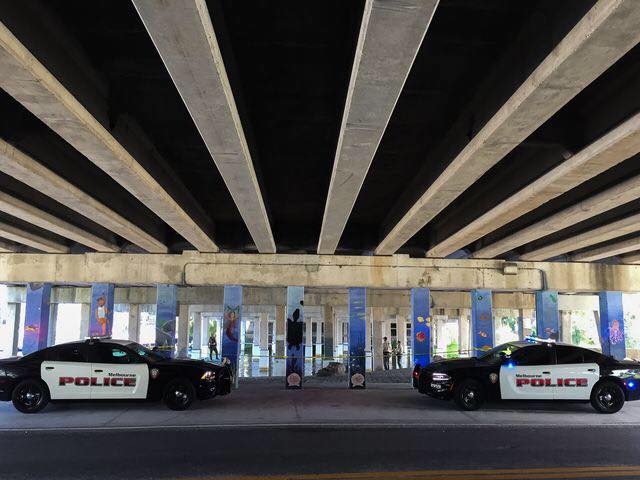 A second suspect involved in a burglary that is possibly linked to the death of a Sebastian man whose body was found in a river has been arrested, Melbourne police said. Police think the deceased man also was involved in the burglary, but have yet to officially confirm those details.
Vero Beach Police arrested 22-year-old James Irwin Bartee, of Sebastian, on Thursday at 1470 Old Dixie Hwy., Vero Beach.
Bartee was charged with misdemeanor resisting an officer without violence and felony burglary of an occupied dwelling.
He is being held at the Indian River County Jail on $16,000 bond.
Further details on Bartee's arrest were not immediately available.
Police think the burglary is connected to the death of a Sebastian man who went missing Dec. 8 after he went to Melbourne to go fishing. A crew performing a dredge project in the Eau Gallie River spotted the body of Rico Malique Arocha, 23, at 10 a.m. Monday floating in the water, said Melbourne Police Lt. Trevor Shaffer.
It appears Arocha died from drowning, but officers are still awaiting autopsy results for an official cause of death, said Melbourne Police Sgt. Scott Lindsley.
Burglary
Police said at least two burglary suspects fled from officers after a Dec. 9 burglary that happened in the 800 block of Hawthorne Drive in the Ballard Park subdivision in Melbourne.
The second burglar, later identified as Bartee, fled in one direction while the first ran toward to the Eau Gallie River. Melbourne and West Melbourne police, including a K-9 unit, tracked the first burglar to the river, where he was standing in the water.
Officers ordered the man to come back, but he refused and swam further into the water, "at which point he went underneath," Shaffer said. Arocha's body was found in the same area where the first burglar was spotted in the water, and never resurfaced.
"We believe he's the same person involved in the burglary," Shaffer said late Tuesday.
More on Rico Arocha
Sebastian police spoke with Rico Arocha's mother on Sunday, who said her son had been missing since about 10 p.m. Dec. 8. Susan Arocha said she last saw Rico Arocha at their home in the 100 block of Flint Street, Sebastian, according to a missing persons report.
The mother said her son told her he was going fishing at Ballard Park in Melbourne, where he goes frequently. But Susan Arocha couldn't explain how her son got to the park or who he met there.
Rico Arocha had moved to Florida from Michigan a few months ago and had no driver's license or vehicle, the mother told police. She said Rico Arocha has never run away and not speak to family.
Susan Arocha told police her son was diagnosed as bipolar at 13, but had not been treated for the disorder since he was a juvenile. She said Rico Arocha was not in need of any medications and does not suffer from any life threatening illnesses.
The mother said Rico Arocha might behave erratically if he drinks alcohol. She said she had no way to reach her son because he doesn't have a cellphone.
An officer and Susan Arocha looked at Rico Arocha's Facebook profile and did not see any recent activity since Dec. 6.
This story will be updated.