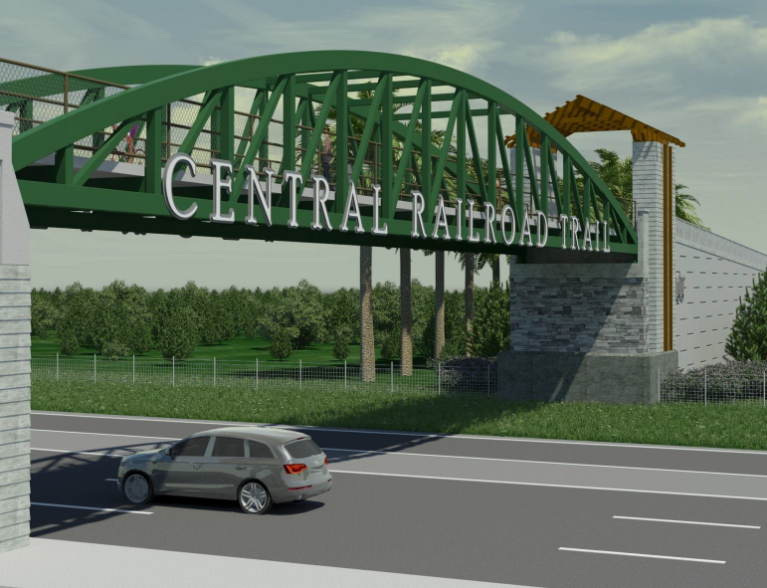 INDIAN RIVER COUNTY — A striking new bicycle and pedestrian overpass is going up across Interstate-95 just north of the 512 Sebastian/Fellsmere intersections, and is expected to be complete in February, according to Phil Matson, staff director of the Indian River County Metropolitan Planning Association.
The overpass project is concurrent with other major roadwork – the widening of Interstate 95 at the busy interchange.  So far, this project is expected to be completed in January, says Matson.
The overpass will serve as a visually impressive "gateway" to Sebastian and Fellsmere. It joins the east and west sides of the historic old Fellsmere railroad right-of-way trail, allowing hikers and bikers to travel, unimpeded, from west of I-95 across to the North County Regional Park, a stretch that originally joined Sebastian and Fellsmere by rail and is now a scenic nature trail through some of Indian River County's most treasured historical and environmentally fascinating environs.
During discussion of the overpass design plan, Matson felt the project architect had "artistic tendencies," and asked whether he could design a structure that would be "evocative of our culture."
He could.
Anchored by concrete towers on either end, the chosen design consists of a broad walkway with two brown metal arches, one over the northbound lanes, one over the southbound.
Matson says the structure will be sturdy enough to safely accommodate emergency vehicles, when necessary.
When the project was in the planning phase, several years ago, said Fellsmere City Manager Jason Nunemaker, there was talk about bringing in a major hotel, on property at the intersection's northeast corner, now home to the Dairy Queen.
At that time the vision was that eco-tourists, hikers, families and others would visit the environmentally unique area, with its plethora of nature-focused opportunities, parks, preserves and historic trails, and have access to excellent accommodations, via the pedestrian overpass.
Several major chains had expressed serious interest, but the economy tanked and the idea went to the back of the stack.
Now, says Nunemaker, as the idea has gained feet again, Fellsmere is reaching out to hotel companies and there has been renewed interest.
Editor's Note: The image shown is an artist's rendering. Ultimately, the decision was made to make the color brown instead of the green seen in the rendering.